India is expected to be well represented at the Canada India Foundation's Canada India Mining and Metals Forum 2010 September 27 to 29 in Toronto.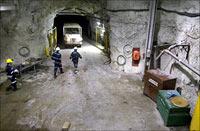 "India will have a very large delegation attending this conference," Indian Consul General Preeti Saran told India Abroad. It will be led by Mining Secretary S Vijay Kumar, the author of India's revised mining policy.
While former Indian president A P J Abdul Kalam is expected to be the keynoter, Mining Minister B K Handique will also speak at the forum.
From the Canadian side, the participants will include Mining Minister Christian Paradis and Ontario Ministers Sandra Pupatello and Micahel Gravelle, among others.
To meet 'growth requirements, India will need base metals, alloy steel metals, gold, coking coal and energy supply (uranium),' said the CIF organisers.
Canada, which is the 'world leader in mining and metallurgy, with vast reserves of base metals, coal, including coking coal… the world's largest producer of uranium, second-largest producer of nickel and third largest producer of aluminum, cobalt and platinum group of metals,' can meet India's needs, they added.
Canada, added the CIF, has developed its great mining tradition 'not just through expertise in exploration, mining and processing, but also knowledge of legal aspects related to mining and the ability to raise capital for mining companies.'
Image: Men work about 1,969 feet below the surface at the Cameco McArthur River uranium mine site in northern Saskatchewan.