Star Wars fans can rejoice. George Lucas' epic space opera film, Star Wars: Episode 1, The Phantom Menace is being given a new lease of life in 3D by an Indian visual effects company, Prime Focus.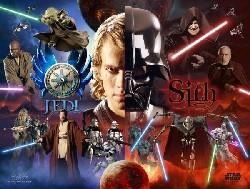 After the success of James Cameron's Avatar, Lucas was inspired to convert the entire Star Wars franchise in 3D. This is to begin with the 1999 prequel, with the remaining five films following in sequence.

"Star Wars films are the very fabric of film-making. Lucas film-tested our creative sensibilities and our pipeline before choosing us," said Namit Malhotra, founder and global CEO, Prime Focus.

The extensive conversion process is being completed under the close supervision of John Knoll, visual effects supervisor for Industrial Light and Magic, who also worked for Avatar.

The Star Wars saga began in 1977 and became a rage at the box office. In 1999, Lucas returned to the story with a new trilogy that told the back story to the first three films.

In all, six movies were made, ending with 2005's Star Wars: Episode III — Revenge of the Sith. According to industry officials, Prime Focus could earn $15-20 million (Rs 70-90 crore).

The company is increasingly becoming a favourite choice among Hollywood film makers and, as a result, has worked on some box office blockbusters such as New Moon, GI Joe and Clash of Titans. And, recently, with Chronicles of Narnia, Tron Legacy and Sucker Punch.

"It takes at least four-six months for one Hollywood project," Malhotra said.

Therefore, he's set up facilities in New York, Vancouver, London and Los Angeles, apart from the India establishment.

"Most of the work is done there for Hollywood and part of it is outsourced to India, for which we're training the Indian team," added Malhotra.

With most film-makers and studios pressing the 3D button and Hollywood studios planning to convert their catalogues, Prime Focus almost trebled its personnel to 3,500 from 1,200 in the past year.

In addition to the international movie business, it is a name film makers in Bollywood seem to prefer, too. The special effects of almost all big-ticket Bollywood films like Guzaarish, Patiala House and Tees Maar Khan have come under Prime Focus' fold.

It works on almost 50 Bollywood films in a year, controlling 65 per cent of the domestic market.

Formed in 1995, Prime Focus has climbed up the ladder, working first on ad films and then television content, and now on movies.

The company took a big leap in 2006 when it raised Rs 115 crore (Rs 11.5 billion) from the capital market. The market cap is Rs 852 crore (Rs 8.52 billion).

The Indian Animation and VFX industry's size was estimated at Rs 240 crore (Rs 2.4 billion) in 2010, versus Rs 200 crore (Rs 2 billion) in 2009.

By 2015, the industry in India has the potential to grow to Rs 5,600 crore (Rs 56 billion), according to Ficci-KPMG's report.