Union Bank of India raised $350 million on Monday by dollar-denominated bonds, of 5.5 years maturity. These were raised at five-year US treasury plus 300 basis points (bps).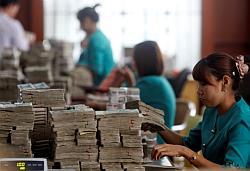 Also on Monday, Tata Communications made an addition of 150 mn Singapore dollars to its previous issue of S$250 mn last month. Due in 2016, these are priced at 3.766 per cent yield-to-maturity. The total book size was for S$360 mn, with 56 investors.

A roadshow is to also take place tomorrow in Singapore for Tata Steel, through its wholly owned subsidiary, ABJA Investment Co Pte. Merchant bankers say a Singapore-dollar-denominated Reg S notes transaction might be launched.

Union Bank will use the proceeds
from the issue referred to for funding its international operations. Chairman and managing director D Sarkar says there is high demand from foreign borrowers, specially in West Asia.
In March, the bank had opened a branch in the Dubai International Financial Centre, the lender's second foreign branch. The other one is at Hong Kong.
According to
Bloomberg
data, Indian companies sold $6.3 billion of bonds abroad in the three months ending March 31, almost triple that of the previous quarter.
The average dollar yields for local companies fell 46 bps this year and reached as low as 3.81 per cent on March 18, according to HSBC Holdings Plc indices.
With lending rates in India remaining high due to sticky inflation, Indian firms are looking to reduce their cost of funds.