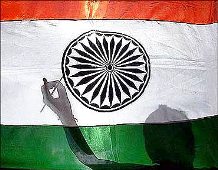 Fresh order flows of domestic companies, a key indicator of investment activity and business sentiment, have been pointing to a deepening slowdown in the Indian economy.

With uncertainty over economic prospects and higher interest rates leading to subdued investments by the private sector, Indian companies' new order inflows in the quarter ended December 31 stood at the lowest level in nearly four years.

During the quarter, new orders for companies in the sectors like infrastructure and construction were to the tune of Rs 37,371 crore (Rs 373.71 billion), the lowest since June 2009.

These were 32 per cent lower than the order inflows in the previous quarter and 20 per cent lower than those in the same quarter a year ago.

According to industry officials and analysts, very few new projects are being announced and existing ones are getting stalled, as companies are conserving cash due to an uncertain outlook.

"The number of stalled and cancelled projects has increased," says Elecon Engineering Company CMD Prayasvin Patel.

The slowdown in order flows is not confined to the power sector; it is spreading to road projects and equipment suppliers.

The current quarter has not seen any business recovery yet, with firms securing new orders worth just Rs 15,783 crore (Rs 157.83 billion) so far.

"In the investment-related sectors like construction, industrials and infrastructure, there is hardly any recovery and things are probably getting worse," says Kotak Institutional Equities Executive Director & Co-head Sanjeev Prasad.

Shares of companies in the sectors benefitting from fresh investments into the economy have performed worse than the broader markets this year.

The BSE Capital Goods index has dropped 11 per cent so far this year, against a decline of one per cent in the benchmark Sensex.

Analysts say, barring a few, most firms in the roads, capital goods and engineering sectors are witnessing a sharp drop in order flows.

"Bidding has dropped and things have slowed down as many unviable road projects have not worked out. There have been terminations, too," says IL&FS Transportation Networks Executive Director Mukund Sapre.

"The highways sector has a lot of issues -- high interest rates and procedural delays in land acquisition and environmental clearances, for example."

The likelihood of India's economic growth falling to five per cent this financial year is forcing companies to defer fresh investments.

The government, under severe pressure to improve the country's finances, has cut expenditure.

This could delay the revival of the economy.

Broking firm IIFL says the consolidated order inflows into companies in the engineering and capital goods sector in the December quarter are the slowest in the past five years.

"Two years into a downturn in the investment cycle, there is little evidence of a change in trajectory. . . Barring an odd optimistic comment, management commentaries point to continued deferrals in ordering intentions," say capital goods analysts Gopal Ritolia and Anupam Gupta in a report.

Analysts add, engineering behemoth L&T has been largely able to weather the slowdown with healthy order inflows in the December quarter, but over a fifth of those were from the international market. L&T's order inflows for the quarter contribute to almost half the total order book of all companies combined.
(With inputs from Katya Naidu)