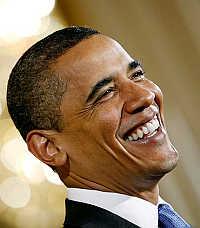 Kamil Hasan a long-time supporter of President Barack Obama in Silicon Valley and also Democratic National Committee member-at-large in California, said on President Barack Obama second term: "I'm personally very excited about his victory, because he is a big supporter of the Indian-American community and a major proponent of strong US-India relations.

"He will strongly promote maths and science education and encourage entrepreneurship. He is also committed to major immigration reform in his second term."

Hasan, who said he's in Chicago celebrating at Obama Headquarters with many others, said to Rediff.com: "It's an amazing victory for the President, and clear validation of his policies."

Hasan has earlier hosted a fundraising for Obama in San Jose in May this year.

The fundraiser was the first involving the Indian American community in Silicon Valley and said President had promised high-skilled immigration reform.

"Definitely, since he does not have to worry about re-election, he can focus on keeping his promises. His second term will be much better than first."

He also hopes Obama will be adding more Indian American in his team. On why he think Obama got re-elected Hasan said: "He has helped the country get out of a major financial crisis, creating five million new jobs and putting the economy on the right track.

"He has been very bold in being able to overhaul a very unfair healthcare system in our country, and has tried to reform the financial industry.

"He was successful in disengaging the country from a very unnecessary and costly war in Iraq, and has been continuing to bring US troops out of Afghanistan. He has refurbished US image abroad. Furthermore, he is an honest, fair, reasonable decent and a very likeable human being."

Vivek Wadhwa, an Indian-American technology entrepreneur and academic and who calls himself a great critic of the US immigration policies, twitted on learning through CNN that President Barack Obama will be serving again for next four years, "Dear President please give us a start up visa, more green card and be more entrepreneur friendly."

"He has been coming to silicon valley and listening to CEO's and then he say we need to bring top talent from all over the world but when he goes Washington DC he has amnesia," Wadhwa, reacting to the US president's first four-year in the office and his policy on highly-skilled immigration reform.

"He has visited half a dozen times to collect money. Now he has to deliver what he has promised. Now that he does not have to worry about re-election. My hope is he will do the right things," said Wadhwa to Rediff.com.

Wadhwa though did not sound too positive but said: "I am hopeful because when he is here (silicon valley) he says the right thing."

What led President Obama to second term.

Wadhwa said because people realised that Republican has become a party of extremism. This is a wake up call for Republican. Even though they had some favorable policies but the minorities were afraid of voting for Republican.

"Republicans are more pro-family than Democrats. Lots of the values that Indians have are accustomed with Republicans, yet the Republicans have positioned themselves as party of extremism," said Wadhwa.

Majority of Indian community voted for Obama. They were his strongest supporters at this election, he said.

Republicans made themselves extremely unpopular with white Christan groups that is the one reason believes Wadhwa.

Wadhwa in his recent book and a research report co-authored with Dean AnnaLee Saxenian of UC-Berkeley and Professor Dan Siciliano of Stanford Law School – The Immigrant Exodus: Why America Is Losing the Global Race to Capture Entrepreneurial Talent talks about an alarming drop in immigrant entrepreneurship - just when the US needs a tremendous boost.

Vish Mishra, President TiE Silicon Valley, said to Rediff.com on learning about President Obama victory that he believes that the things will turn more pragmatic during his next term.

"This is positive I hope, but he has to learn to work with the congress," said Mishra. There are major issues like trade and traffic, immigration, visa system and he has to listen to all the voices. In his victory speech, he said he will be working with Romney. He has to learn to be more pragmatic because he has to lead, he said.
He has to break down the comprehensive immigration reform. "Today we have shortage of skilled workers," said Mishra. He added that Obama cannot address the whole immigration problem into one. He has to tackle the workers' shortage first. "You cannot be harsh on H1-B visa," Mishra said. "I hope he will be now more open to address the issues and solve the problem."
He said America is the most progressive country and Obama has to maintain that.
In terms of US and India relationship, he said the relationship is not as strong as it should be."I hope they work closely to develop the relation and ties with India," said Mishra. He added: "For US, India  is an very important ally strategically. I hope India gets the attention. India has lost its momentum with US. I hope they work together."