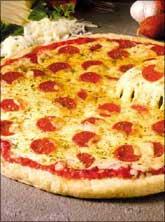 United States-based quick service restaurant chain Domino's Pizza on Thursday said share of India in its global revenue would increase substantially in the near future and that the country would become one of its top five revenue garners within three years.
The company, which operates in India under a master franchise agreement with the Bhartia Group promoted Jubilant Foodworks, also said it will take its total chain strength to 500 outlets in the next three years and focus more on Tier-II and Tier-III cities as part of the growth strategy.
"India currently is one of the fastest growing markets for us and ranks among the top ten in our global list. Within next three years, India will be among our top five markets," Domino's Pizza president and CEO J Patrick Doyle said.
He said India currently contributes around 1.5-2 per cent of the company's annual global sales and added that the figure will double in the next few years.
"With the kind of growth we had here in last 2-3 years, India's (share) could be three, four, five per cent in future," Doyle said, refusing to give any fixed timeframe.
Doyle, who took over as the global head of the $6 billion company today, spent his first day in his new designation by visiting India and opening the 300th Domino's Pizza outlet in the country here.
The Delhi outlet is also the 9,000th global store opened by the company which is celebrating its 50th anniversary.