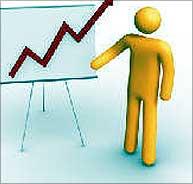 Brazil, Russia, India and China and 11 other emerging economies are growth engines for the $14-billion marketing and advertising global network, WPP, according to Sir Martin Sorrell, chief executive officer, WPP. New digital and consumer insights would also help, he said.
"Our clients want to expand to new markets and digital and consumer insights are key to this growth," Sorrel said at a press conference in Mumbai on Sunday. The growing importance of technology and digital media would see creative agencies move towards application of technology, which would mean a change in the type of people the network hired, he said.
"The profile of people at advertising agencies will change as we increase hiring of software engineers who would be able to apply technology to different media," said Sorrell, explaining that even in television there was the digital television platform where it was possible now to pinpoint the profile target audience, his preferences as well as viewing habits.
Globally, digital contributes 25 per cent of the group's revenues and, with the medium being one of the few vehicles of growth, Sorrell has plans to grow it so that it accounts for a third of its overall revenues.
"In India, digital accounts for 10-15 per cent of the region's $400-million revenue," said Sorrell, explaining that the internet penetration in the country was still low. However, he was optimistic about the increasing use of internet on mobiles as the next opportunity for growth was here.
Sectors that were early adopters of the online medium included telecommunications and technology as these were more attuned, followed by media and entertainment, travel and leisure and automobiles, he said.
"On an average, companies spend close to 10-12 per cent of their overall media spends on the digital medium. However, fast moving consumer goods companies are the most conservative with their spends limited to 5-7 per cent," said Sorrell, while stressing the fact that online spends of the companies were disproportionate to the amount of time people spent online.
"On an average, people spend close to 20 per cent of their time online and this reflects the under-usage of the digital medium," he said.