Expressing disappointment over poor show by industrial production in September, India Inc on Monday pressed for rate cut by the RBI to boost production and further revive the economic growth.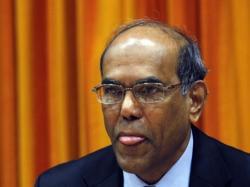 Industry chamber CII said the Reserve Bank should intervene and cut interest rates. The RBI needs to reduce repo rate (short-term lending rate) by 0.5 per cent and Cash Reserve Ratio (the portion of deposits banks are required to keep with RBI) by 0.5 per cent.

"While fully appreciating the imperative of anchoring inflation, it is our view that RBI now needs to intervene and reduce interest rates, since a complete sacrifice of growth is not in the interest of the economy," CII director general Chandrajit Banerjee said.

Sharing similar views, Ficci president R V Kanoria said, it hopes RBI will relook at its monetary policy in the light of latest Index of Industrial Production (IIP) figures and reduce interest rates.

Assocham secretary general D S Rawat also said that the RBI needs to take a constructive view while announcing the next credit policy.

The RBI has refrained from cutting interest rate fearing that it could fuel inflation. The central bank is scheduled to come out with next mid-quarter policy on December 18.

Industrial production contracted by 0.4 per cent in September
on account of dismal performance by manufacturing and capital goods sectors.
The industrial output growth rate turned negative in September after showing 2.3 per cent growth in the previous month. The IIP was 2.5 per cent in corresponding month last year.
The country's economic growth rate during the first quarter of the current fiscal was 5.5 per cent.
Recently, RBI in its half-yearly review of the monetary policy had sharply lowered this fiscal's economic growth projection to 5.8 per cent, from 6.5 per cent estimated earlier. This was done in the view of global and domestic factors like poor investments and subdued demand.
Further, Assocham said, the continued negative growth of the manufacturing sector has got wider implications and needs to be addressed on a priority basis.
The IIP data suggests that output of manufacturing sector, which constitutes over 75 per cent of the index, contracted by 1.5 per cent in September, as against a growth of 3.1 per cent in the same month last year.
Calling for faster implementation of pending reforms like GST, Ficci said at this juncture, it is important that the government does not lose momentum on reforms front.
Besides, Assocham said it has been urging the policy makers to announce special incentives for investors in manufacturing capacities and improving credit availability, among other things.