India is in talks with members of the Gulf Cooperation Council (GCC) to conclude a free trade agreement and a framework agreement for the FTA has already been signed, a leading Indian banker in the region has said.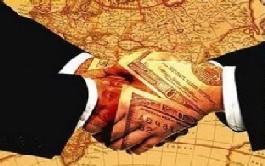 In a note, Doha Bank Group CEO R Seetharaman said bilateral trade between India and GCC countries exceeded USD 80 billion in the nine months up to December, 2010.

According to him, the GCC countries - Oman, the UAE, Bahrain, Kuwait, Qatar and Saudi Arabia - have identified various sectors, such as petroleum oil and energy, gas and fertilisers, information technology, higher education, civil aviation and agriculture, for potential cooperation with India.

"The FTA will remove restrictive duties and push down tariffs on goods being traded. This will provide scope to the Indian pharmaceutical and chemical industry to export their products to the Gulf region. India is the third country apart from Japan and the United States to have become a dialogue partner of the GCC," Seetharaman was quoted by the Gulf Times daily as saying.

According to him, there are several potential sectors for investment by Indian entrepreneurs, which include information technology, software development, telecommunications, education, training and healthcare services, tourism and hotel industry, banking and financial services, oil, gas and petrochemicals, electricity, housing, road and rail networks.

"GCC investment in India has significantly increased in the last two years and is now estimated at more than USD 125 billion," Seetharaman said.

The sectors that have attracted these investments are the infrastructure sector, with a cumulative investment of USD 112 billion; special economic zones, with an investment of USD 12 billion; agricultural and food processing (USD 900 million), real estate (USD 700 million) and oil and gas (USD 500 million).

On Qatar-India bilateral trade, Seetharaman said it was likely to have exceeded USD 5 billion in the year to March, 2011.

Bilateral trade between the two countries has seen rapid growth between 2006 and 2010. Qatari exports to India have steadily increased in the last four years, reflecting rising demand for Qatar's hydrocarbons in India.
Qatar's exports to India include petrochemicals, LNG, fertilisers, sulphur and iron pyrites. India is also a major buyer of Qatar's ethylene, propylene, ammonia, urea and polyethylene output.