To facilitate wheat exports of up to 1.5 million tonnes to Iran, discussions are on with Tehran with regard to lifting the 16-year old ban on the Indian grain, a government official said.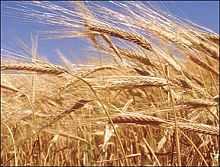 Iran, which buys its wheat from Australia, Canada and Kazakhstan, is now facing the US sanctions. It wants to increase imports of foodgrains to hedge against the growing impact of sanctions and poor crops due to bad weather.

Iran is keen on importing the Indian wheat now, but faces the hurdles of quality guidelines. Suspecting a fungal disease, Iran in 1996 had banned Indian wheat. The West Asian nation had suspected that Indian wheat was infested with 'Karnal bunt'-- the fungal disease commonly found in north India.

"The Agriculture Ministry is now discussing with the Iran government with regard to quality standards for Indian wheat and lift the ban," a senior government official
said.
The issue of 'Karnal bunt' disease has been taken up seriously because Iranian traders have made wheat import requests to the Agricultural and Processed Food Products Export Development Authority (APEDA), the official said.
APEDA is the export promotion body for farm items. Karnal bunt, a fungal disease of wheat, was first reported in 1931 from Karnal, Haryana. The disease primarily spreads through contaminated seeds.
Noting that Iran presents huge opportunities in exports of wheat, a senior APEDA official said, "At least 1.5 million tonnes of wheat can be exported if Iran removes the ban."
India, which lifted four year-old ban on wheat exports in September 2011, is in a comfortable situation to sell the grain abroad due to record production of 88.31 million tones in the 2011-12 crop year (July-June).
Even the stockpiles in the government godowns are above the required levels. Besides wheat, Iran is also looking at importing rice, sugar and tea from India.