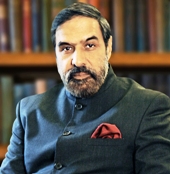 Negotiators of India and ASEAN will meet early next month in an effort to conclude the Free Trade Agreement in Services and Investment, which India hopes to be done by December 20.

"There are some issues on which negotiators needed clarity. . . They met in Phnom Penh. I also met counterparts from Malaysia and Philippines," Commerce and Industry Minister Anand Sharma said.

Contending that there are 'definitely positive developments', he said, 'to bring Trade and Investment to early conclusion', negotiators will meet in Jakarta from December 4 to 6.

"I am hopeful that we will conclude the agreement before the Commemorative ASEAN Summit to be held in New Delhi (on December 20)," he said.

Sharma was speaking to journalists while returning with Prime Minister Manmohan Singh from Cambodia last night on special aircraft after attending the ASEAN and East Asia Summits.

At the ASEAN Summit, Singh said India is prepared to conclude the agreement by the Commemorative Summit next month.

"At the Summit, the Prime Minister urged for early conclusion of Investment and Services agreement," Sharma said.

He noted that the FTA with ASEAN in Goods, signed in 2009, has led to substantial increase in trade, touching $79 billion as against $32 billion a few years back.

The minister said India is also engaged with Australia and New Zealand for FTAs.

With regard to Comprehensive Economic Cooperation Agreement with Singapore, he said it is expected to be concluded soon.

For FTA with Thailand, negotiations will meet on November 27-28, he said.
Image: Anand Sharma