Having faced a debacle in four Assembly elections recently, the UPA government is exploring ways to woo voters before the coming general elections - without deviating from the path of fiscal consolidation.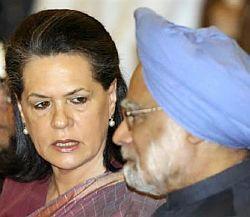 That the finance ministry is now hoping to limit the government's fiscal deficit for the year at below 4.8 per cent of gross domestic product (GDP) might give Finance Minister P Chidambaram a bit of room to offer some pre-poll sops before the election code of conduct kicks in.

Unlike in 2008, a farm debt waiver, which cost the exchequer about Rs 60,000 crore, would not be possible this time, nor would it be feasible to announce big-bang social-sector schemes.

But the idea is to give some immediate relief to the inflation-struck common man. Since tinkering with income tax would be difficult, that relief could come through the banking channel. Some minor tweaking in indirect taxes could also be an option.

A lower fiscal deficit will make way for higher capital infusion in banks and duty sops for certain sections.

The finance ministry had already told banks to ensure higher credit flow to consumer-focused sectors, such as automobile car loans, home loans and consumer goods; in return, banks could expect higher capital infusion, over and above the Rs 14,000 crore provided for in the Budget.

Also, lenders could get further incentives for extending affordable consumer loans.

Officials said the government seemed to realise its game-changing food security programme would not come before next year and its direct benefits transfer scheme had yielded little. And, there was only a little time in which it had to win back voters' confidence.

A limited fiscal space is the biggest hurdle before the government in going for any largesse.

The finance minister has promised investors the Centre's fiscal deficit would not breach 4.8 per cent of GDP, as pegged in Budget 2013-14; he would not want to cross this "red line", at any rate.

But the latest data indicate, if all goes well, it would be possible to contain the fiscal deficit below the estimated 4.8
per cent.
"Fiscal deficit may be less than projected. The situation is not as bad as we had thought. Plan expenditure will be substantially lower than the Budget estimate, tax collections have started picking up and stake sale in some companies is going to happen soon," said a finance ministry official, asking not to be identified.
In order to keep the fiscal deficit under control, the ministry is also strictly monitoring its non-tax receipts from sources like dividends, interests, and economic services, while tightening the expenditure.
The finance ministry is asking cash-rich public-sector companies to pay more dividends. This could bring an additional Rs 10,000 crore to its kitty.
In the Budget, it had projected Rs 73,866 crore from dividends. Revenue from various general, social and community services might also go up a little, as administrative ministries are being constantly asked to revise user fees.
The finance ministry is confident that sale of the government's residual stake in Hindustan Zinc and Balco will go through this year, helping it get around Rs 20,000 crore, besides another Rs 20,000 crore from disinvestment.
In the first seven months of the current financial year, the fiscal deficit had exceeded 84 per cent of the Budget estimate. However, the ministry officials said the deficit was magnified because receipts were back-loaded and expenditure front-loaded.
Election Dole


Incentives announced before two previous Lok Sabha elections
2004


Then finance minister Jaswant Singh announced Rs 10,000-crore duty sops in a mini-budget in January 2004 (but the incumbent National Democratic Alliance could not return to power)
2009


The United Progressive Alliance government, in its first term, announced a Rs 60,000-crore farm debt waiver in Budget 2008-09.
Though criticised by many, the move is said to have helped UPA win