Karnataka proposes to auction 15 of its Category-C mines to end-users.
In what could be a first for the country's iron ore sector, the Karnataka government is readying an action plan to auction iron ore mines to end-users. To begin with, it has proposed to put 15 of its 51 Category-C mines on the block and sought permission for this from the Supreme Court, which is to hear its appeal on Friday.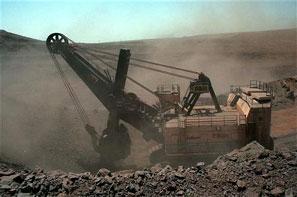 The move comes in response to the apex court's earlier direction to the state to reallocate its mines. In an order dated April 18, 2013, the Court had classified iron ore mines under three categories; the ones where large-scale violation of mining rules had taken place were placed in the 'C' category. The Court had ordered cancellation of leases for 51 Category-C mines and reallotments for those through an open and transparent process.

According to an affidavit filed by the Karnataka government's chief secretary with the Supreme Court, the auction will be for end-users only. Since the 'end-user' is not defined, the state government has said: "Our understanding is, an end-user is anyone with the capacity to make use of the ore by breaking it through chemical reduction processes and beyond. So, the final products might include pig iron, sponge iron and steel, but exclude pellets and the process of beneficiation."

Even as the Court hears the state's appeal, the mining industry wants that the state be directed to prepare a comprehensive scheme for disposal of Category-C mining leases in consultation with various stakeholders. The Federation of Indian Mineral Industries (Fimi) has filed a counter-affidavit in the Court. "The state of Karnataka ought to adopt a transparent and non-arbitrary process, based on objective parameters to decide which of the 15 leases would be selected for the first tranche of allotments.
The auction should be open to all end-users, who are dependent on iron ore from Karnataka, irrespective of whether they are based in or outside the state, including standalone beneficiation and pellet plants," said Fimi Secretary-General R K Sharma.

Some of the prominent leases in this category are Hothur Traders, Bharat Mines and Minerals, Associated Mining Company, Latha Mining Company, RMML, Trident Minerals, Matha Minerals, S B Minerals and VS Lad & Sons. Before a ban on mining in the state, these leases accounted for about 15 million tonnes of iron ore production.

The auction of mines is likely to benefit 'end-users' like JSW Steel, Kalyani Steel and BMM Ispat, which do not have captive iron ore mines and depend on e-auction of iron ore for their raw material requirements. As new mining leases are unlikely to be given out in the state in the near future, auction of mines could give steel mills a big opportunity to acquire the natural resource.

The 51 Category-C mines are estimated to annually produce five-six million tonnes of iron ore. The apex court has capped iron ore production in the state at 30 mt a year, against the steel industry's annual requirement of 35-50 mt.

So far, only 23 mines have started production and their combined output is 10 mt a year. Besides, state-owned NMDC is producing another nine mt annually, though it is allowed to produce 12 mt a year.

The state government has said the auction will follow a two-bid system (a technical bid and a financial bid). As the process of selecting the lessee has to be under Section 11 (3) of the Mines and Minerals Development & Regulation (MMDR) Act, the technical bid will incorporate Section 11 (3) (a), (b), (c) to qualify.

Section 11 (3) (a) of the MMDR Act requires that applicants have "any special knowledge of, or experience in, reconnaissance operations, prospecting operations or mining operations, as the case may be, possessed by the applicant".

Sub-section (b) seeks to know "the financial resources of the applicant", while (c) checks "the nature and quality of the technical staff employed or to be employed by the applicant".

Since the auction is to be only for end users, the state government has sought the Supreme Court's guidance on whether existing end users could also be considered or only prospective end user should be allowed.

"It is requested humbly that with the intervention of the Hon'ble Supreme Court the provision 11 (3)(d) is amended to cover end users who have established industries, as well as those proposing to establish such industries, to qualify them technically. The technical bids will be evaluated and financial bids of only those scoring above a prescribed limit in technical bids will only be opened," said Karnataka Chief Secretary Kaushik Mukherjee in the affidavit.

Financial bids will be evaluated under Section 11(3)(e) of the Act. The bidders have to quote, besides royalty, what will be payable as premium under the Government of India notifications from time to time. These premia are charged as a percentage of value of mined ore and contributed to a special-purpose vehicle for implementing the Comprehensive Environment Plan for Mining Impact Zone. The amount quoted as premium is going to be the sole criterion for selecting the successful one from among bidders qualifying on the technical parameter.

It is difficult to determine the value of mined iron ore, as some of it is used for captive purpose and not sold in the open market. So, the produce has to be indexed to a value arrived at in a transparent manner on the basis of current market rates.

Resource distribution
Snapshot of Karnataka's mining scene
Category A: 45 mines (16 operational)
Category B: 63 mines (7 operational)
Category C: 51 mines (all leases cancelled)
50 mt: States's peak iron ore production in 2009-10 (before mining ban)
19 mt: State's iron ore output in 2013-14, including 9 mt by NMDC
40 mt: Estimated annual iron ore demand in the state (Supreme Court, which has capped production at 30 mt, has rejected the state govt's plea to raise the limit)
22 mt: Expected iron ore output in the state in 2014-15 (25 mt next year)