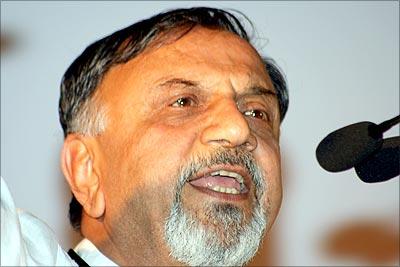 Some of the finest brains of the IIT Bombay alumni came together to celebrate the institute's Golden Jubilee at the Lalit Ashok in Bangalore recently. Rightly named Kal Aaj aur Kal, the event focussed on the past, present and future of IIT.
rediff.com caught up with a few of them to get an insight into their views, ideas and opinions.
Speaking to chief information officer Shailesh Gandhi, for instance, was a scintillating experience. He decided to take on the government both at the Centre and the states with a new weapon -- the Right to Information Act. He used it effectively to elicit information about delays, favouritism and other partisan stands taken by the bureaucracy.
His enlightening speech, addressed to the audience at the Bangalore event, was punctuated with wit and humour. "As an RTI activist, I used to think there are individual cases of corruption. As a part of the government, I realised that the very system is diseased.
"Every chief minister, police chief, even the prime minister tells the police that the crime graph should not rise. Therefore, what do they do? They simply do not file cases so that the number of crimes never increases.

"The population of Mumbai has risen by 50 per cent but the number of crimes has not gone up as the police have not registered more cases than last year".
"I will give you another instance. Each IAS officer needs to have an annual confidential report. About 45 per cent of the IAS officers do not make confidential reports at the end of a year; 30 per cent have no annual confidential report even after two years and for another 22 per cent, there is no ACR even after four years."
"Therefore, the annual confidential report of the IAS officers is a sham, it's a joke. Promotions are given on what your boss or your minister thinks of you".
"When I entered the government I was given three officers. The seniormost was called an under-secretary. He did not know how to use a computer. Six months later, they still cannot find a computer-literate under-secretary for me.

"In Karnataka, every officer, who knows how to use a computer, is given two PCs. But at the Centre, 80 per cent of the officers do not work on a computer. One person had filed 15 complaints against the municipal corporation of Delhi three years back. He got no reply because no one bothered to even look at it. This is what is happening in every state.
"We have installed the best software system in the world but no one uses it because they don't know how to. In banks and airlines, everyone has adapted themselves to computers barring the bureaucrats.
"In Maharashtra, I learnt to my horror that the government had given Rs 4,000 to every employee to learn computers. Ninety-five per cent of them claimed the money but no one learnt anything. Most government employees being in their 40s and 50s, don't even touch computers, let alone use them. 
"The government says we will not give new jobs. This is where the contractors come in. They do nothing but take a percentage of the employees' earnings. They exploit the employees as they have no rights, no personal provident fund, no unions and they are insecure.
"The young man who mans the computer works for less than 33 per cent of the salary that a government employee gets. But he cannot object because he is on contract. Thus, all the laws of the land are being government constantly.
"We need to change this. Unfortunately, no officer in government are trained to change anything. They follow the Newton's law of motion -- they continue to what they are doing. 
"They first take a couple of papers, punch a hole in one corner and tie it up.
Then they bunch a few more papers, put a cardboard cover on it and tie a nada around it. If an officer looks at 50 files a day, he wastes 25 minutes tying and untying this nada. I told them to stop doing this in my office and thus saved time." 

This had the crowd in splits.
Gandhi said it was sad government employees still pile up files in cupboards and do not use filing cabinets where the files can be visible and easily accessible.
"If we do not force the government to change for the better we will never get better governance. If all private sector companies made their memorandum of understanding with the government in the public domain, we will see a sea change in no time," he said.

"We should Use the RTI to good effect," he added.
During his exclusive chat with rediff.com later, Gandhi said that thegovernment had increased his staff to seven but lamented that he still did not have a computer-literate under-secretary. 

The biggest problem, according to him, lay in the backlog of complaints. "I think and I have told the government that this backlog will kill the act. Only if we give the reply on time we can be useful to the people".
"Now we have brought down the waiting time to three months for a reply. I have also employed four whom I pay from my salary."
He said that every state has its own information commissioners, while the central government has seven, including him.
Explaining the RTI usage, Gandhi said, "First you file a question to the concerned officer and stick a 10-rupee stamp on it. If he gives a reply and you are not satisfied you can go back to him with another question. If he doesn't reply, you file the same question with the commissioner in the state.
"If you have a problem with a central government body like an university, you come to us."
Though Gandhi wants to educate the public on the RTI, he says he doesn't have funds to do it. The government obviously doesn't think it's important to train people about its own act.
How can one put the information to use, once it is received?
Shailesh Gandhi said, "You have three options. You can use that information to complain to a higher authority in the same department or you can file a public interest litigation. The latter, however, is a cumbersome process.
"But the best thing to do is to go to the people and build a public opinion. Tell the people what you discovered and how important it is to take the offender to task. Go to the press. That is your biggest weapon to bring any one to book. As an RTI activist, I used to use the media tool all the time.
"I used to hold small meetings comprising 40 at a time, followed by more meetings. This is how one should build a public opinion. One also needs to talk to elected representatives, corporators and others. Raise your voice and ask a question, always.
"Approach them, confront them. We never confront people. We always talk among ourselves -- that MLA is doing this and that. That is a wrong approach. Why don't we go to the MLA and pose a question to him?
"No matter whom you vote, start confronting. Changes are bound to occur.
"If you don't bribe your work will not be done and you will suffer. To make the government servant suffer bribe him and have him arrested too. Only then will your work be done and next time they will respect you."
Image: Shailesh Gandhi speaks at the IIT event in Bangalore. | Photograph: Sanjay Sawant.