Last year, the Indian Institutes of Technology could place only 75 to 80 per cent students, thanks to the economic slowdown. This year, the response is better. Day one at IIT Bombay saw participation from 21 firms and 81 jobs on offer - an increase of 100 per cent over last year. The institute says it has already placed around 40 per cent of the students.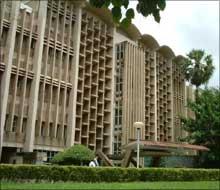 Around 120 companies have visited the IIT Bombay campus till date, with 500 offers in their bag. All told, over 180 companies have confirmed their presence.
"The final placements began in December 2009 and will continue this year till 100 per cent placements are achieved. Approximately 1,160 students graduating from various graduate and post-graduate programmes are participating in the process this year," stated a release from the institute.
Around eight leading management consultants have visited the campus for recruitment including McKinsey, The Boston Consulting Group, Bain & Co, Booz & Company and The Monitor Group. Alvarez & Marsa has recruited for the first time from IIT Bombay. Other companies which have recruited from the campus include Sony, IBM, Intel, Deutsche Bank, Goldman Sachs, Procter & Gamble, Tower Research Capital, Morgan Stanley, J P Morgan, Credit Suisse and Nomura. As many as 60 offers have been made by the financial services sector.
But the institute said that engineering jobs are still in demand. "So far the students have shown a remarkable inclination towards the technical sector, with more students wanting to opt for core engineering and technology firms. Many students have shown a growing preference for organisations like Cisco, Sony, Daimler and Eaton among others. This shift is primarily attributed to the more attractive work profiles and packages offered to the graduates by these companies," the release added.
Having placed nearly 70 per cent of their students in just over a month, the IITs are hopeful of wrapping up the placements before March. During the same period last year, these institutes had managed to place only around 35 per cent of their students due to the global economic slowdown. Most IITs completed over 25 per cent of placements in the first week this time.
At IIT Kharagpur, of the 1,341 students, around 531 have been placed. The highest offer at the institute has been for Rs 22 lakh (Rs 2.2 million) per annum from Barclays Bank for a placement at Singapore.
IIT Roorkee has invited around 1,200 companies to the campus against 800 last year. The institute will place around 1,200 students this year. So far, IBM has made an offer of Rs 14 lakh (Rs 1.4 million), which is the highest till date at IIT Roorkee. And at IIT Kanpur, Tower Research Capital, a financial services company from New York, has made the highest offer of Rs 44.5 lakh (Rs 4.45 million). These institutes said they have seen a 30 per cent salary hike over last year.