In a first of its kind alliance, three lenders have joined hands to form a non-banking finance company (NBFC) to support infrastructure development in the country.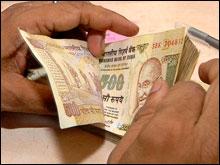 The largest private sector lender, ICICI Bank, the third largest public sector lender, Bank of Baroda, and Citi Financial (the NBFC arm of Citigroup) will form the first infrastructure development fund (IDF).
While ICICI Bank and BoB will pick up 30 per cent stake each, Citi Financial will have close to 30 per cent. The balance will be shared by other financial entities.
ICICI Bank, the sponsor bank in the joint venture, has received Reserve Bank of India (RBI) approval to commence operations and the lenders will announce the venture at a function in New Delhi.
In his Budget speech last year, Finance Minister Pranab Mukherjee announced the setting up of the IDF to increase long-term fund flow to the infrastructure sector.
The Indian infrastructure sector requires funds of the order of Rs 50 lakh crore in the Twelfth Five-Year Plan (2012-17) and half of those are expected to come from the private sector.
However, the government's proposal to launch an infrastructure debt fund received lukewarm response from state-run banks, on the ground that the model was not cost-effective.
According to sources, the finance ministry has asked public sector banks, including State Bank of India, to step up their efforts to launch the fund. An IDF can be set up as a trust or a company.
A trust-based IDF would normally be a mutual fund, while a company-based IDF would normally be an NBFC. Banks are expected to take the NBFC route for setting up the IDF, for which they need RBI's approval.
As of now, only the ICICI Bank-led IDF has received approval from RBI. Sources said among public sector banks, only IDBI Bank, which has expertise in infra funding, has applied for RBI approval.
However, while IDBI has managed to get a few public sector banks to participate in the equity of the company, the erstwhile infrastructure financier is yet to hear from the State Bank of India (SBI). IDBI Bank had approached SBI to pick up an equity stake in the IDF.
Syndicate Bank, Dena Bank and some other government-run lenders have agreed to take minority stakes in the IDF, while IDBI Bank will hold 30 per cent stake. The minimum capital requirement for setting up an IDF-NBFC is Rs 300 crore (Rs 3 billion).
According to bankers, setting up an IDF is not a cost-effective proposition and there is no immediate return.
"At present, banks' cost of funds will increase further if we go for raising long-term resources. Also, the return on investments will only come after a lag as there is a gestation period for core sector projects," said a senior banker.
Apart from a few banks, which have higher share of low-cost deposits, the cost of funds for most banks is 7-7.5 per cent. The other reason for banks' reluctance is their lack of expertise in infra funding.