ICICI Bank, the largest private sector lender in the country, is the latest to pare its home loan rates as part of its festive season offer.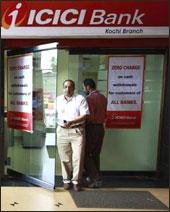 The private lender has cut both floating and fixed rates on its housing loans and the offer is valid for sanctions till December 31, 2012. Even existing customers can avail the benefits of the interest rate cut by visiting their branches and paying a small fee.
Under its new offer, ICICI Bank will now charge floating rate of 10.25 per cent on housing loans up to Rs 30 lakh (Rs 3 million) instead of 10.50 per cent.
For loans between Rs 30 lakh and Rs 3 crore (Rs 30 million) the bank's floating rate is revised to 10.50 per cent. Earlier the bank was charging floating rate of 11 per cent for home loans between Rs 30 lakh and Rs 75 lakh (Rs 7.5 million), and 11.50 per cent on loans above Rs 75 lakh.
Home loans above Rs 3 crore will continue to attract floating rate of 11.50 per cent under the new offer.
The bank has made similar revisions for home loans with fixed rate of interest for one and two years. For a three-year fixed rate home loan the revised interest is fixed at 10.50 per cent for loans up to Rs 30 lakh, and 10.75 per cent for Rs 30 lakh to Rs 3 crore loans.
Photograph: Sivaram V/Reuters