Hungama Digital Media Entertainment, a Mumbai-headquartered developer and distributor of Bollywood and South Asian entertainment content, will be aggregating and building upwards of 200 intellectual property (IP)-based mobile games during the current financial year.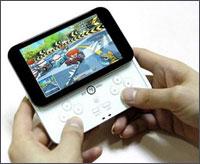 Hungama powers nearly 70 per cent of all mobile digital entertainment content in the country. It has in its portfolio a little over 400 IP-based mobile games and 800 games in online space. The company also offers active games on the direct-to-home (DTH) platform, in a tie-up with Tata Sky.
"We will be developing 50 games on our own, while the remaining will be aggregated," said Siddhartha Roy, chief operating officer, of the year's plan. "To develop an effective game and port it across over 450 mobile devices typically costs anywhere between Rs 500,000 and Rs 10 lakh (Rs 1 million)."
Here recently to launch its new game, based on the Naga Chaitanya Telugu film starrer, Dhada, he told Business Standard that with the advent of new smartphones, game plays were getting better. This game revolves around Dhada (fear), an unknown character sent to kill the villain. The villain is unaware of who Dhada is and the player, with his stealth and bravery, has to enter the villain's hideout and hunt down his henchmen.
He, however, has to be careful of his brother, who works for the villain and has been asked to shoot the unknown Dhada at sight.
"Today, with 840 million mobile subscribers, India is the fastest growing mobile and internet market. What better way for the audience to experience the thrill of the movie than to play the game on their mobile phones?" he said.
Aiming to leverage the digital medium for entertainment, Hungama is looking at widening its umbrella with more film-based games. The company has developed a little over 200 of these across Hindi, Telugu, Tamil, Kannada and Bengali. These include Shah Rukh Khan's Don, Salman Khan's Ready, Akshay Kumar's Kambakth Ishq and Rajnikant's Endhiran (Robo).
"We have already started working on games based on Salman's Bodyguard for mobiles and Shah Rukh's Don-2, a film slated for release during January-February, for online, mobile and DTH platforms. Also in the pipeline is a game based on Telugu flick Kodi Punju," said Roy.
He said the company was in the process of completing its Hungama Movies project, a new feature where movie buffs can download and stream high-definition movies from hungama.com for personal computers powered by Intel Insider technology.
The second-generation Intel core processor also offers a 'pro-active queue' capability that will help consumers pre-download films ahead of the release date and give them the ability to purchase those films securely, even if not connected to the internet. This will allow consumers to start watching their movies immediately on the release date, without waiting to download during peak traffic times.
"We have over 1,000 movies in our library. The service would be rolled out initially with 300 movies across Hindi, Telugu, Tamil, Bengali, Punjabi and Marathi languages, besides some international content. Hopefully, the product will be rolled out before this Diwali," Roy added.