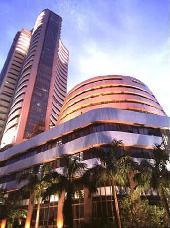 Markets reversed early gains and slumped in late-noon deals to end lower on Tuesday weighed down by profit taking in FMCG and select bank shares.

Consumer durables, realty and capital goods were the key draggers in trades.

The 30-share Sensex ended below the 20K mark once again -- at 19,982 -- down 120 points or 0.6% and the 50-share Nifty ended at 6,049 down by 34.

The Nifty had touched fresh 2-year highs during the day topping the 6,100 level.


On the global front, Asian stocks mostly retreated from early highs in a messy trading day Tuesday, with the Tokyo market performing a flip-flop back into losses as initial enthusiasm for Bank of Japan's monetary-policy plans gave way to selling. Nikkei shed 0.3% at 10,710.

Shanghai Composite also declined half a per cent.

European shares edged lower on Tuesday, keeping within their tight range as investors awaited a cue from key U.S. earnings releases later in the day before attempting fresh push towards new 2-year highs. CAC, DAX and FTSE are down between 0.3-1%.

Back home, the Indian rupee on Tuesday gained 23 paise to 53.54 against the US currency in the late morning trade on fresh selling of dollars by banks and exporters driven by persistent capital inflows from foreign funds.

Foreign institutional investors remained net buyers of Indian stocks on Monday and bought shares worth a net Rs 842.95 crore.

All the sectoral indices were in the negative zone. BSE realty index was the top loser - down 2% at 2,235. Consumer durables, capital goods, PSU and IT indices declined around half a per cent each.

Gail India shed 4.5% at Rs 371. Index heavyweight and cigarette maker ITC fell on profit booking after recent gains triggered by strong Q3 results. The stock ended down 0.7% at Rs 289.

Tata Motors dropped 1.5% following its announcement last week that the Group's global wholesales, including Jaguar Land Rover, totaled 98,968 units, in December 2012.

On the other hand, NTPC and Sun Pharma added 1.5% each at Rs 164 and Rs 710, respectively.

Shares of fast moving consumer goods (FMCG) giant Hindustan Unilever (HUL) witnessed a knee-jerk reaction in the later part of the trading session as the company's board approved a royalty of 3.15%.

On the BSE, stocks of HUL ended at Rs 482 -- down 2.8%.

The current royalty stands at 1.4% of the turnover.

The company plans to increase the royalty in a phased manner till March, 2018.

According to the company officials, in the next financial year 2013-14, the royalty will stand at 1.9%, 50 basis points higher than the current royalty payment.

Stocks of listed retail companies such as Pantaloon, Shopper's Stop and Trent were up in morning trade today on the Bombay Stock Exchange (BSE) following Foreign Investment Promotion Board (FIPB) clearance received by Swedish major IKEA for its Rs 10,500 crore investment in the country.

This is the largest investment proposal in the single brand retail category so far.

"Both stocks exhibit a weak short term trend and are up today by whopping margins on account of news flows effecting the retails space. Such trends may/may not be sustainable and a few more sessions need to be given for establishment of clear trends," said Ranak Merchant, Technical Analyst -- Strategies, Sushil Financial Services.

Pharma major Lupin Ltd has received the final approval from the United States Food and Drugs Administration (USFDA) to market a generic version of an oral conceptive called Lutera Tablets.

Shares of Lupin, however, declined 1.5% at Rs 585.

The overall market breadth in BSE ended weak with 1,450 shares declining and 827 shares advancing.