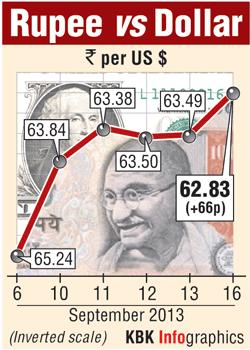 The Indian rupee rallied to a near one-month high on Monday, as hopes for a prolonged easy monetary policy in the US boosted emerging markets, but surging headline inflation put domestic policy challenges back in focus.

Headline inflation shot to a six-month high in August, driven by a 245 percent annual jump in onion prices, data earlier in the day showed, pulling the rupee off the day's highs.

Inflation rising at a time when growth in Asia's third largest economy is languishing at a decade low would complicate policy making for the central bank, already struggling to boost the rupee.

After hitting a series of record lows in August, the rupee has stabilised since Raghuram Rajan, the new central bank governor, assumed office on Sept. 4 and announced a series of measures to boost the currency.

The rupee has since gained 7.6 percent, hitting a near one-month high of 62.45 per dollar in early trade.

Traders, however, said Monday's rally was only a knee-jerk reaction and markets would again start focusing on the domestic fundamentals soon, which would keep trade choppy heading into the central bank's monetary policy decision on Friday.

Prior to that, the Federal Reserve will announce its much awaited move on tapering monetary stimulus after its two-day meeting on Sept 17-18.

"The RRR (Raghuram Rajan) effect has so far been working with geo political factors supporting," said Paresh Nayar, head of fixed income and currencies at First Rand Bank.

"INR has gained remarkably and with new measurements announced yet to get implemented, there could be good accrual to reserves through FCNR-B and bank borrowings. But FOMC announcement
still overshadows next moves of INR," he added.
Foreign banks will provide upfront financing for wealthy non-resident Indian clients to entice them to place bulky dollar deposits back home in response to India's drive for dollar funding to defend its weak currency, sources told Reuters.
The partially convertible rupee closed at 62.83/84 per dollar, sharply above its close of 63.49/50 on Friday.
It had hit a record low of 68.85 on August 28.
The benchmark 10-year bond yield closed down 6 basis points at 8.43 per cent.
News that Lawrence Summers had dropped from the race to head the Federal Reserve promised to prolong the lifetime of super-easy money, hurting the US dollar while bonds and shares across Asia rallied.
"We continue to expect that a Fed taper should pressure Asian FX in those countries in weak external positions, however the domestic policy responses will continue to colour the degree of reaction," Sacha Tihanyi, senior currency strategist at Scotiabank, wrote in a note.
HSBC downgraded Indian shares to 'underweight' from 'neutral' on Monday, citing the recent rally and downside risks to growth.
The bank said that after the recent bounce, India looks relatively expensive and is most exposed to growth adjustments.
The main share index closed flat after gaining as much as 1.8 percent at one point.
Raghuram Rajan will have to confront what may well prove to be his biggest challenge in his short time in office as he announces his first monetary policy decision.
New Delhi is contemplating a near 10 percent hike in diesel prices soon to ease its oil subsidy burden, government officials have told Reuters.
A fuel price increase would further add to inflation concerns.