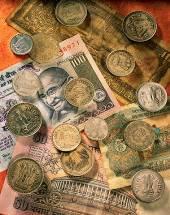 The Indian rupee rose to a near two-month high on Friday, ending the week with 1.8 percent gains, as the dollar struggled against global currencies due to the continued political impasse that has shut down the US government.

The rupee has remained broadly supported by inflows and the absence of dollar demand from the state-run oil refiners, while companies and foreign funds have sold the weakening greenback.

Reduced concerns about the domestic economy have also helped. Reserve Bank of India Governor Raghuram Rajan said on Friday there was no reason to dispute the government's estimate of 5-5.5 percent economic growth for the current fiscal year.

Global currency market sentiment is likely to be driven by the US deficit and debt ceiling negotiations, with markets likely to turn more risk averse closer to October 17, the date by which the US Congress must approve raising the country's borrowing limit.

"The market should not be very complacent seeing the rupee stability.

"The economy fundamentally is worse off from a year earlier
as the fiscal deficit is higher and growth is lower," said Samir Lodha, managing director at QuantArt Market Solutions.
"The rupee will remain vulnerable to any dollar strength," he said.
The partially convertible rupee closed at 61.43/44 per dollar compared with 61.735/745 on Thursday, a third day of rise and a fourth week of gains out of five.
It rose to 61.25 in the session, its best level since Aug. 13.
Earlier in the session, stop-losses were triggered after the rupee hit 61.64, which marked the highest since the Federal Reserve's surprise decision to continue its bond stimulus last month.
The currency's gains have come as the dollar continued to struggle near an eight-month low as the US government shutdown dragged on.
Meanwhile, the euro held firm, boosted by positive euro zone data.
In the offshore non-deliverable forwards, the one-month contract was at 61.91, while the three-month was at 62.94.
In the currency futures market, the most-traded near-month dollar/rupee contracts on the National Stock Exchange, the MCX-SX and the United Stock Exchange all closed at around 61.82 with total traded volume of $2.7 billion.