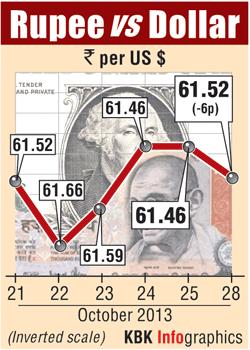 The rupee edged down on Monday, a day before the Reserve Bank of India policy review when it is widely expected to raise interest rates to fight inflationary pressures even as the economy grows at its slowest in a decade.

The RBI's macroeconomic report released after the close of markets said upside risks to food inflation remain and that it expects the retail and wholesale price inflation to remain above comfort levels.

Expectations for a rate hike have grown after data earlier this month showed that both retail and wholesale inflation accelerated, and markets are likely to scrutinise whether the central bank hints on Tuesday at more rate hikes.

Meanwhile, the RBI is also expected to continue cutting short-term interest rates, removing measures put in place to support the rupee.

"The market will be very
cautious until the policy outcome. I expect ranged trading between 61.25 to 61.75 to continue depending on the global situation," said Hari Chandramgethen, head of forex trading at South Indian Bank.
Global factors will be a factor ahead of the US Federal Reserve's policy meeting ending on Wednesday.
The partially convertible rupee closed at 61.52/53 per dollar compared with 61.46/47 on Friday.
Weakness in shares also hurt the rupee.
The BSE index marked its lowest close in nearly 1-1/2 weeks, as lenders and other interest rate-sensitive shares declined a day before RBI's policy review.
In the offshore non-deliverable forwards, the one-month contract was at 61.97, while the three-month was at 62.95.
In the currency futures market, the most-traded near-month dollar/rupee contracts on the National Stock Exchange, the MCX-SX and the United Stock Exchange all closed around 61.51 with a total traded volume of $1.9 billion.