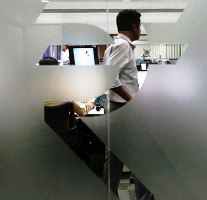 The rupee weakened for the first time in five sessions on Thursday as heavy month-end dollar demand from oil refiners and losses in other Asian currencies hurt, but gains in domestic shares prevented a sharper fall.

Most Asian currencies weakened versus the dollar with the Thai baht and Philipine peso sliding on disappointing economic data.

Traders are looking ahead at India's gross domestic product data due on Friday, which is expected to show economic growth picked up slightly in the July-September quarter on the back of improved manufacturing activity.

"Until the year end, market is likely to remain very quiet or there could be days of extreme volatility.

"The
GDP numbers and inflation next month could be key triggers," said Paresh Nayar, head of fixed income and currencies at First Rand Bank.
"Broadly until year-end 61.50 to 63.50 range is expected, barring unexpected events," he added.
The partially convertible rupee closed at 62.41/42 per dollar compared to 62.14/15 on Wednesday.
Oil refiners are meeting most of their dollar purchases in markets, and not from a special window provided by the central bank, according to traders, although the central bank has not provided any concrete data.
Bigger falls in the rupee were prevented as Indian shares rose on Thursday recovering from two sessions of falls as blue chips recouped recent losses.
In the offshore non-deliverable forwards, the one-month contract was at 62.95 while the three-month was at 64.00.