The rupee appreciated another 19 paise to 63.11 against the dollar today as local stocks made a strong recovery and exporters sold the US currency.
The rupee, which rose to a high of 62.95, gained for the second day after RBI Governor Raghuram Rajan sought to reassure investors, saying there is no fundamental reason for the currency to fall again. He also pegged the CAD at a lower level than estimated earlier.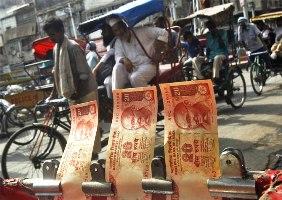 Capital inflows continued to aid the rupee's rise, although a strong dollar overseas capped the gains.
The rupee resumed higher at 63.15 a dollar from the previous close of 63.30 at the interbank foreign exchange market and improved to a high of 62.95 as local stocks rose.
Further gains were stalled by concerns about a possible rate hike after data showed wholesale price inflation at 7 per cent in October compared with 6.46 per cent in September.
The rupee dropped to a low of 63.34 and closed at 63.11, a rise of 19 paise or 0.30 per cent. Yesterday, it had gained 41 paise. The local currency fell for the fifth straight week, losing 64 paise.
The 30-share benchmark Sensex snapped a seven-day losing streak and advanced 205.02 points or 1.02 per cent. Foreign institutional investors bought shares worth Rs 299.70 crore (Rs 3 billion) yesterday, according to provisional stock exchange data.
The dollar index was up 0.46 per cent against major global rivals.
"WPI data was released, which dented sentiment. Going ahead...Janet Yellen will be closely tracked as she is expected to comment on the ongoing tapering talks," said Abhishek Goenka, Founder & CEO, India Forex Advisors.
The RBI said it would inject Rs 8,000 crore (Rs 80 billion) by purchasing bonds on Monday to improve liquidity in the system.
Rajan said the estimate for the current account deficit this year is $56 billion, less than 3 per cent of GDP and $32 billion lower than last year.
He also said most of the dollar demand from OMCs is back in the market and the central bank will not rush to close a special window for their forex needs.