The Indian rupee fell the most in nearly two weeks on Monday after data showed India's economy grew slower than expected and as military tensions in Ukraine hit emerging market assets, sending domestic shares lower.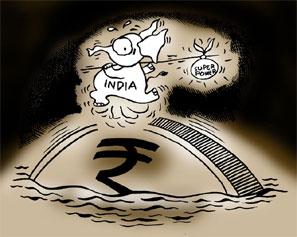 Any resurgence in global risk aversion threatens to reverse strong dollar inflows into local stocks and debt, which totalled over $2 billion in February, and helped push the rupee to its highest in more than a month on Friday.

Indian shares snapped a five-session winning streak to end 0.8 per cent down.

"The rupee has generally been on a strengthening mode, helped by fund flows. Today's fall is largely due to the risk-off mode due to the Ukranian situation," said Satyajit Kanjilal, chief executive at Forexserve, a forex advisory firm.

"We may see some extended weakness to 62.30 levels, but largely it will remain range-bound
till the elections."
The partially convertible rupee closed at 62.04/05 versus Friday's close of 61.75/76 per dollar, which was its highest since Jan. 21.
It fell 0.46 per cent in the session, its biggest single-day drop since Feb. 18.
The rupee's falls tracked declines in most emerging Asian currencies after Russian President Vladimir Putin said over the weekend he had the right to invade Ukraine.
At home, data showed contracting industrial output and an investment slowdown dragged India's economic growth to a worse-than-expected 4.7 per cent in the three months to December, the last major data release before general elections due by May.
In the offshore non-deliverable forwards, the one-month contract was at 62.45 while the three-month was at 63.17.