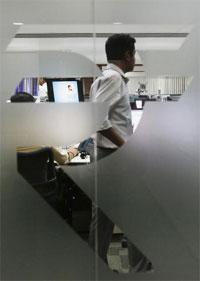 The Indian rupee snapped its four-day rising streak on Thursday as month-end dollar demand from importers, particularly oil firms, hurt while concerns about central bank intervention also prompted investors to refrain from shorting the dollar.

The central bank has been suspected to have bought dollars aggressively over the last two trading sessions to shore up its foreign exchange reserve and prevent a massive appreciation in the local unit which could be detrimental to export growth.

Analysts say though the near-term bias is for the rupee strength, investors must remain cautious.

"Enjoy the stability and INR appreciation but be on close guard against an INR weakness which can happen if there is a pull-out of hot FII money and on the back of any election-related negative news," said Samir Lodha, managing
director at QuantArt Market Solutions.
Foreign fund inflows into domestic shares, which hit record highs for a fourth consecutive session on Thursday, have been a key factor helping the rupee.
Foreign funds have bought shares worth $2.9 billion so far in March, taking net inflows in 2014 to $3.3 billion.
Traders expect the unit to hold in a 59.50 to 61.00 range in the near term.
The partially convertible rupee closed at 60.31/32 per dollar compared with 60.14/15 on Thursday.
The rupee had hit an eight-month high of 60.04 on Wednesday.
Traders said gains in the domestic share market and other Asian currencies limited further losses in the local unit.
Emerging currencies held near multi-week highs to the dollar, buoyed by Chinese stimulus hopes and stable US yields.
In the offshore non-deliverable forwards, the one-month contract was at 60.58 while the three-month was at 61.24.