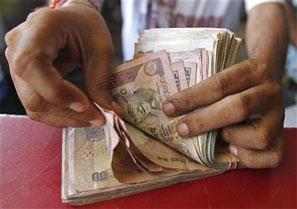 The Indian rupee weakened for a second consecutive session on Wednesday, retreating further from a seven-month high hit in the previous session, on bets the central bank will start to buy dollars to build up its foreign exchange reserves.

Caution ahead of key consumer inflation data in the day also weighed.

A powerful rally across Indian markets since last week has been predicated in part on hopes that easing inflation would allow the Reserve Bank of India to keep interest rates steady, starting at its next policy review on April 1.

Traders also said the rupee tracked falls in regional shares and currencies as economic uncertainty in China and the United States come amidst political tensions in Ukraine.

"The rupee's gain to 60.60 was an overshoot.

The market is now speculating that the RBI may look to buy dollars to restore forex reserves and preserve export competitiveness,
which is leading investors to cut their dollar shorts," said Param Sarma, chief executive officer at NSP Forex.
The partially convertible rupee closed at 61.2150/2250 per dollar compared to its previous close of 60.94/95.
The rupee had hit a seven-month high of 60.5925 intraday on Tuesday.
Analysts have long expected the RBI would use moments of rupee strength to buy dollars and build up foreign exchange reserves of $294.4 billion, enough to cover just around seven months of imports.
Still, on Wednesday, demand for dollars from state-run banks was attributed mainly to the government's defence related payments.
Traders will also continue to monitor foreign fund flows. Foreign investors bought shares worth $250.30 million on Tuesday, their 17th buying over the previous 18 for a total of over $1.8 billion.
FIIs have purchased a total $5.8 billion in debt in 2014.
In the offshore non-deliverable forwards, the one-month contract was at 61.63 while the three-month was at 62.34.