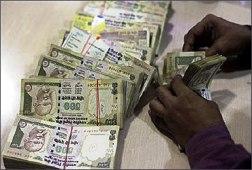 Notching up gains for the third straight day, the rupee on Thursday gained 18 paise to end at nearly one-week high of 54.57 against the US currency on continued dollar selling by exporters and some banks, amid weak cues from the overseas foreign exchange market.

Sustained capital inflows also aided the rupee sentiment even as domestic stocks closed stable, said forex dealers.

At the Interbank Foreign Exchange market, the rupee resumed stable at its overnight closing level of 54.75 and immediately touched a low of 54.78.

However, it later turned positive and rallied to a high of 54.56 before concluding at 54.57 -- a rise of 18 paise or 0.33 per cent. It had gained 48 paise in the past two days.

Pramit Brahmbhatt, CEO, Alpari Financial Services (India) said: "The USD/INR pair continued to revisit new intraday high and low during the session on corporate selling and importer buying.

The dollar index which eased from its high of around 80.80 levels witnessed some sharp rebound in Euro which has been trading on to its lower berth."

CRISIL has estimated that the rupee may appreciate by around 7 per cent from current levels.

"The rupee is expected to settle at around 51-52 per US dollar by March-end 2014, from the current levels of around 55 per US dollar," it said.

The dollar index was down by 0.32 per cent against a basket of six major global currencies ahead of the European
Central Bank's policy decision later on Thursday.
India will release November IIP data on Friday and December inflation data next Monday.
Meanwhile, the Indian stock market benchmark Sensex on Thursday closed almost stable -- down by a mere 3.04 points or 0.02 per cent.
FIIs had infused $158.10 million yesterday in equities, as per Sebi data.
"Yesterday's gains were a clear indication of dollar selling in the market.
"A major petrochemical company is said to have sold dollars. "
"Positive sentiments created in the Asian markets by Chinese data helped rupee to continue with its gains today," said Abhishek Goenka, Founder & CEO, India Forex Advisors.
Thursday's ECB meet and speeches of the FOMC members will be very significant for the markets, he added.
The premium for the forward dollar ended slightly lower on fresh receipts by exporters.
The benchmark six-month forward dollar premium payable in June finished down at 166-168 paise from Wednesday's close of 168-1/2-170 paise.
Far-forward contracts maturing in December also softened to 315-317 paise from 315-1/2-317-1/2 paise.
The RBI has fixed the reference rate for the US dollar at 54.63 and for euro at 71.32.
The rupee remained firm against the pound sterling to 87.62 from yesterday's close of 87.84 and also improved further against Japanese yen to 61.90 per 100 yen from 62.62.
However, it fell back against the euro to 71.52 from previous close of 71.48.