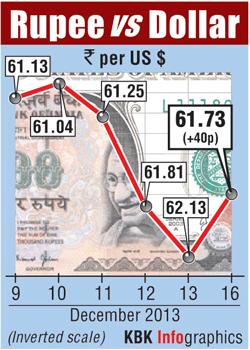 The rupee gained on Monday, snapping three days of losses on inflows tied to dollar sales from foreign banks and corporates, even as high wholesale prices virtually sealed the case for a rate hike on Wednesday.

Headline inflation hit a 14-month high in November, as food prices surged, government data showed, and comes on the back of a sharp surge in retail inflation.

Reserve Bank of India chief Raghuram Rajan will likely raise the key policy rate during his third successive review, which may adversely impact stocks and have a cascading effect on the rupee.

The rupee's fortunes are largely dependent on portfolio inflows into stocks and any rate hike negatively impacts such flows.

Still, the rupee bucked the inflation print as dealers cited foreign banks selling dollars for custodial clients and corporate inflows.

However, some like Scotiabank feel a rate hike at this juncture may be a 'blessing in disguise'
for the rupee ahead of the Federal Reserve's decision on Wednesday on whether to begin tapering its extraordinary monetary stimulus.
Some inflows are also expected on back of global companies raising stake in their Indian units.
GlaxoSmithKline Plc has decided to spend roughly $1 billion to raise its stake in its Indian pharmaceutical unit, betting on rising demand in emerging markets as sales in developed economies slow due to a wave of patent expirations.
"The negativity surrounding the rupee has largely died down. A rate hike has been factored in and we are much better placed to face any tapering," said Subramanian Sharma, director at Greenback Forex.
The partially convertible rupee closed at 61.73/74 per dollar compared with 62.125/135 on Friday. It rose 0.7 pct in session, its biggest single day gain in nearly a month.
In the offshore non-deliverable forwards, the one-month contract was at 62.15 while the three-month was at 63.02.