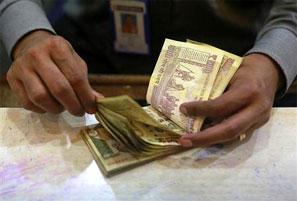 The rupee recovered after hitting a near five-month low on Thursday, aided by dollar sales by the central bank, but movements in other Asian currencies and the global geo-political situation will remain key to its movement in the near-term.

The Reserve Bank of India (RBI) likely sold dollars via state-run banks starting at around 61.50 levels to prevent the rupee from slipping further, three traders said.

The quantum of intervention was not too large, and dealers doubted if it would mark a clear change from the central bank's recent dollar buying stance, the dealers added.

Still, the rupee's performance in the near-term will likely depend on global factors after foreign funds sold $361.54 million worth equities and $426.59 million worth of debt so far this month.

"The central bank is there to contain
volatility as always. The rupee is tracking the weakness in Asian peers and the string of US manufacturing data," said Pramod Patil, assistant vice-president, foreign exchange, at United Overseas
Bank. "Market will watch the China trade data tomorrow and the geopolitical tensions will remain in focus.
"The rupee will hold in a 61.00 to 61.90 range tomorrow," he added. The partially convertible rupee closed at 61.22/23 per dollar compared to 61.4950/5050 on Wednesday.
The rupee's 1.1 percent fall in the previous session was its biggest single-day slide since Jan. 24.
The gains came despite a decline in most emerging Asian currencies on Thursday as growing tensions over Ukraine and surprisingly weak Australian job data hurt risk appetite, while the Chinese yuan extended gains in local trade.
In the offshore non-deliverable forwards PNDF, the one-month contract was at 61.60 while the three-month contract was at 61.26.