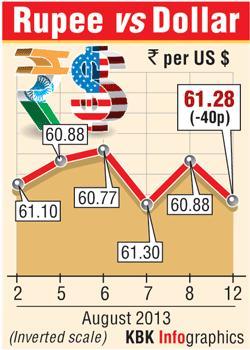 The rupee weakened on Monday despite the RBI's third round of cash tightening measures announced last week after Finance Minister P. Chidambaram's measures to contain the current account deficit were seen lacking specifics.

Chidambaram on Monday sought to soothe nerves about its external finances by promising to contain the current account deficit at 3.8 percent of gross domestic product this fiscal year with a slew of measures including easing rules for raising loans abroad.

Although the current account deficit target would be below the record 4.8 percent in the fiscal year ended March, investors said the lack of details disappointed markets.

"There was nothing new in what he said today, the market was expecting a lot more. The market wanted to know the concrete details," said Vikas Babu Chittiprolu, a senior foreign exchange dealer with state-run Andhra Bank.

The partially convertible rupee closed at 61.2750/2850 per dollar compared with 60.88/89 on Thursday. The unit rose to a high of 60.45 in opening deals, its highest since August 1. Financial markets were closed on Friday for a local holiday.

Traders expect the rupee to move in a 60.50 to 61.50
range this week. They would monitor the consumer price inflation data and factory output data due after market hours for the near-term clues.
The rupee's defence has so far been driven largely by the central bank, which on Thursday said it would sell 220 billion rupees of cash management bills each week, its third set of measures to defend the currency by draining cash since initial steps unveiled on July 15.
The steps initially helped the rupee gain to a more than one week high at the open, but sustained dollar demand from importers, particularly oil firms weighed.
The RBI said after the close of markets it had sold a net $2.25 billion in spot foreign exchange market in June, highlighting how the central bank has also intervened to shore up the rupee.
Onshore forwards jumped on the back of the cash tightening measures. The one-month forward premium rose to 55 points from 49.25 points while the one-year premium went up to 505 points from 483 points.
In the offshore non-deliverable forwards, the one-month contract was at 61.76 while the three-month was at 62.67.
In the currency futures market, the most-traded near-month dollar/rupee contracts on the National Stock Exchange, the MCX-SX and the United Stock Exchange all closed at around 61.30 with a total traded volume of $2.66 billion.