Reliance Industries on Wednesday said it has commissioned the country's first one-megawatt solar plant to power a stadium to be used in the upcoming Commonwealth Games.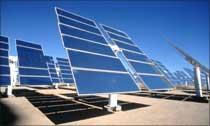 The company's solar energy initiative, RIL Solar Group has "successfully implemented and commissioned 1-MW solar plant on the roof of the Thyagaraj Stadium here," RIL said in a press statement.
Thyagaraj Stadium is planned to be a model green stadium and will host Netball competition in the upcoming games.
RIL Solar Group has also implemented power plants in the R K Khanna Tennis Complex as solar LED street and garden lights in the Commonwealth Games Village.
"With these, RIL Solar Group has installed 100 per cent of the solar PV power generating equipment for the Commonwealth Games 2010," it said.
The solar initiative is one of the major ones to compensate for carbon-di-oxide (CO2) emissions to be released through the game.
RIL Solar Group installed and commissioned the country's first 1-MW solar plant in a record duration of less than 3 months. The power plant is expected to generate around 1.4 million units of electricity per year.
It would cater to the power requirements of the stadium and the surplus would be fed to the grid. The solar power generated through 1 MW solar PV power plant at the Thyagaraj Stadium is expected to result in emission reduction of more than 1,200 tons of CO2 per year.
The Group has also implemented three 2.6 KWp solar PV power plants on the roofs of individual tennis courts in the R K Khanna Tennis Complex, which will play host to the tennis event during the games.
Further, there are 34 back-up solar PV systems of 3 KWp each along with 180 solar LED street and 500 garden lights in the Commonwealth Games Village, which will house athletes, coaching and support staff.
Commenting on the achievement, RIL chairman and managing director Mukesh Ambani said, "We have always believed that the renewable energy space is a natural extension of our strengths in the conventional energy platform. The nature of technical expertise and project execution demonstrated in developing the solar power infrastructure is a defining achievement for our Solar Group."