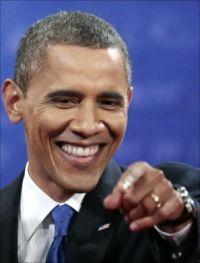 The United States has announced it will reduce carbon dioxide emissions from coal power plants to 30 per cent below 2005 levels by 2030.
Many have begun celebrating it as a giant move considering 40 per cent of the country's emissions come from coal power plants.
Is there anything to celebrate here? Plenty for US President Barack Obama domestically perhaps.
Unable to persuade the US Congress to pass a law, he has used his executive powers to get the decision out.
"It will send a good signal to nations everywhere that one of the world's biggest emitters is taking the future of the planet and its people seriously," says Christiana Figueres, Executive Secretary of the UN climate change convention.
"I fully expect action by the United States to spur others in taking concrete action (under the new 2015 global agreement which is currently being negotiated)."
Figueres may well have got her assessment wrong.
As executive secretary of a multilateral body which has suffered from the absolute inaction from the US for two decades, she may be latching on to the straw US offers now.
But, for the international community it could well mean very little.
This target is only one element of the objectives the Obama administration committed itself to way back in 2010.
The US had then said it would reduce its emissions 17 per cent below 2005 levels by 2020.
Many experts, such as Martin Khor, note that if the 17 per cent reduction target set by the US is compared with the global efforts, one would get the real picture.
Most take 1990 as the base year under the Kyoto Protocol (which US refused to sign on) to measure the extent of reduction. Convert the US target to the 1990 base level and it turns out that Obama's revolutionary move promises a near zero per cent reduction below 1990 levels by 2020.
In comparison, even the EU has committed to a 20 per cent reduction level by 2020 below 1990 levels (it is well on way to achieve that having already met 12 per cent plus of that target in 2013).
Now, the hullaballoo over the US announcement of 30 per cent emission reduction below 2005 levels from coal power plants by 2030 only sets the US on way to achieving this overall minuscule target.
Experts say that this too is not achieved by any painful overall reduction in either energy consumption levels or any massive doses of investments in super clean coal technologies that the world has not seen as yet.
US carbon dioxide emissions from coal power generation went down by 10 per cent below 2005 levels by 2011 largely because it shifted instead to natural gas from shale reserves.
Over this period US' dependence on coal reduced by 14 per cent. US coal consumption peaked in 2005 when it used 22.80 quadrliion Btu of it.
It has fallen since, but the US predicts it to rise back to 19.70 quadrillion Btu - almost the same as the 2011 levels - by 2030 and yet stay 15 per cent below 2005 levels while it reduces emissions by 30 per cent over this period.
At the same time, its use of natural gas is slated to rise from 22.60 to 26.8 quadrillion Btu by 2030.
So, for the rest of the world looking at the biggest historical emitter with expectations, the announcement conveys that the US has finally begun putting things in place at home to meet the small target it promised a while back.
But the world, especially the developing world, does not really need to sound grateful for the US President to be able to overcome his domestic tribulations.
Studies such as those by Stockholm Environment Institute have shown, put together, the developing world is right now committed to a larger volume of emission reductions by 2020 as compared to the developed countries.
That does not change with the much-expected new US announcement, it only reiterates the imbalance.
Anyone who believes otherwise should watch how the mistrust between the developed countries and others, created out of this continued imbalance, plays out yet again in the UN climate negotiations that re-start on June 4.
Many experts believe that countries such as China and India do need to do more to reduce emissions under the new global and long-term agreement.
But, they need to do it in their own interests while keeping in sight the past and future projected emissions of all other countries.
It would be naive to believe that a US, which takes marginal emission cuts in near future and leaves the difficult decisions to after 2050, can convince emerging economies to do otherwise.
As much as countries such as India need to find a way to de-link their emissions from their growth, if the US and other developed countries want to lead, they have to show how an economy can be maintained while reducing their energy footprint.
Only the two together could put the world on a path that keeps global temperature rise below two degrees by the turn of the century.