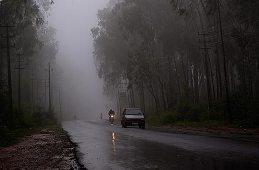 The government said on Monday it will converge the MNREGA and other schemes to meet the challenges of drought-like situation in several states and enhance imports of commodities in short-supply to control price rise.

Terming the poor monsoon so far as 'unfortunate', Finance Minister P Chidambaram said the contingency plans are in place to help farmers replant alternate crops as well as supply drinking water and fodder.

"Unfortunately, the south-west monsoon has been below expectations. Drought-like conditions have been reported from several states," he told reporters in New Delhi.

Monsoon is the life-line of the agriculture sector as only 40 per cent of the cultivable area is irrigated. Rain has been 20 per cent lower during June-July, affecting kharif crops mainly coarse cereals and pulses.

Karnataka, Gujarat, Maharashtra and Rajasthan are facing drought-like situation.

"MGNREGA (Mahatma Gandhi National Rural Employment Guarantee Act) and other schemes will be converged to meet the challenge of drought," Chidambaram said.

Last week, an empowered group of ministers on drought had approved diesel subsidy of 50 per cent to farmers for saving standing crops and about Rs 2,000 crore (Rs 20-billion) package for states affected by drought-like
situation.
Pointing out that there has been pressure on prices and inflation, mainly food inflation, is high, Chidambaram said: "We will take steps to remove the constraints on the supply side.
"We will also use our stock of foodgrains to moderate prices. Wherever necessary, we will enhance the import of items in short supply".
The government had 80 million tonnes of foodgrains (wheat and rice) in its stock as on July 1. The country imports about three million tonnes of pulses and nine million tonnes of vegetable oils annually to meet domestic demand.
Chidambaram emphasised that it is the government's duty to provide relief to the people living in drought affected districts, protect wage employment and save agricultural production to the extent possible.
"We must seize this opportunity to build durable assets that will provide employment to the poor as well as help in drought proofing agriculture in the affected districts," the Finance Minister added.