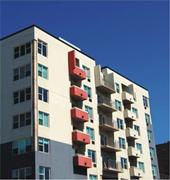 Property consultancy firm Knight Frank on Monday said that 367,000 housing units will be available by 2011, across seven Indian cities of which 25 per cent will come up in the National Capital Region alone.
Examining potential residential supply, the report said that with 92,202 units, NCR would be the highest contributor to the supply followed by Mumbai with 20 per cent or 72,906 units, during the period.
"Our extensive research reveals that as the real estate sector's growth continues to improve, the country will witness a supply of 138,000 residential units in 2010, 57 per cent more than the supply seen in 2009," Gulam Zia, National Director (Research and Advisory Services), Knight Frank India said in a release.
Hyderabad would contribute 15 per cent or 53,000 housing units, Pune 14 per cent, Bengaluru 10 per cent, Chennai nine per cent and Kolkata the remaining seven per cent of the total supply.
The study also revealed that the developers were now increasingly focusing on catering to the middle-income segment with upto there bedroom-hall-kitchen housing units and not on 4&5-BHK or penthouses as they used to do few years back.
"Knight Frank estimates that 75 per cent of the present and future residential supply will focus, to a great extent, on the 2 and 3-BHK housing units being built," the report said.
Zia said that the residential property prices have increased by 10-30 per cent in Mumbai and Bengaluru since March 2009 after the big slump which witnessed upto 40 per cent price correction.
The price improvement, however, is limited to Mumbai and Bengaluru and was not a country-wide phenomenon, the property consultancy firm said.