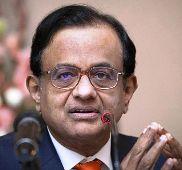 After a revival plan was announced for the insurance sector on Monday, housing is next on Finance Minister P Chidambaram's agenda.

To begin with, the finance ministry is identifying partially completed projects which can resume work after securing a fresh line of credit from banks.

As of now, 76 incomplete projects with investment worth Rs 3.2 lakh crore (Rs 3.2 trillion) have been identified. Banks will be asked to resume lending for some of these projects where delays happened for reasons beyond the developers' control. In return, the developers have agreed to slash prices to benefit buyers.

"Disbursal issues are there in many projects. Partially completed projects would be pushed first. Loans will be sanctioned on a case-to-case basis.

"On their part, developers are ready to reduce prices. Some regulatory issues are there. For that, we are talking to the RBI," said a finance ministry official.

Last month, Financial Services Secretary D K Mittal had met bankers and the Confederation of Real Estate Developers' Associations of India to review issues pertaining to credit flow to the housing sector.

The finance ministry will have another meeting with banks for financing projects.

Officials said many of the projects, which are in tier II and tier III cities, could not be completed because builders ran out of funds and could not approach banks for fresh loans.

In some cases loans were taken from housing finance companies at high interest rates, making it difficult to service
the loans.
A loan is classified as non-performing by banks if the project fails to become operational even two years after the commercial operation date.
Sometimes the delay is due to a lapse on part of the developer, whereas in many cases it could be for other reasons such as land acquisition, delay in approvals and other clearances.
In such cases, the government will ask banks to offer a helping hand.
"Projects shall resume at the earliest.
"The economy can be spurred if more housing happens.
"So, we need to have a close look at the stalled projects. Whatever support can be given to the housing sector will be provided. At the same time, we have to address the concerns of banks, too," said another government official.
The official said banks would adopt a 'project focus' approach rather than 'corporate focus'.
Builders have expressed concern the exposure norms of the RBI are affecting flow of credit to the sector.
Loans for residential projects are treated on a par with commercial real estate projects and fall within the overall cap of five per cent lending to the sector.
"Some space is still available in the existing regulatory framework to give a push to the sector. Those measures will be taken immediately.
"The thrust is on viable projects that can be successfully completed without compromising security.
"For other issues, we are trying to find common ground with the RBI," said the official.
At the start of the 12th Five Year Plan (2012-17), the total housing shortage in the country was estimated at 18.78 million.