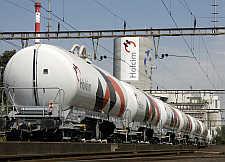 The move by Swiss cement major Holcim to simplify its Indian structure has not gone down well with institutional investors, who plan to oppose the deal at the shareholders' meet. Large investors say they will vote against the proposal when it comes for approval.
Angry investors sold Ambuja and ACC shares on the stock exchange as soon as the markets opened for business on Thursday. The Ambuja stock recovered from a 15 per cent fall to close with a 10.52 per cent decline - its biggest single-day fall since 1991. ACC fell three per cent to close at Rs 1,194.
"We will vote against the proposal as and when it comes for shareholders' approval," a top official of a government-owned institution said.
Fund managers across brokerages said the deal, for Holcim, meant taking out money from its Indian subsidiary.
According to the deal, Ambuja Cements will buy a 24 per cent stake in a Holcim holding company for Rs 3,500 crore (Rs 35 billion) and later merge it with itself. This will result in an equity dilution. The transaction will give Holcim Rs 3,500-crore tax-free cash, as it holds stake in the Indian company through a Mauritius firm.
"We downgrade Ambuja Cements to 'neutral' from 'buy' and have also slashed its target price from Rs 245 to Rs 195. The deal adds to the woes of minority shareholders of Ambuja Cements," Bank of America-Merrill Lynch said in a report.
JPMorgan said, while the deal was attractive for Ambuja from a valuation perspective - as it was paying a nominal two per cent premium to ACC's current price - the Street was expected to focus on the issue of common parentage, that is, Holcim.
In addition, the Street would likely assign a holding company discount of 20-25 per cent to Ambuja's stake in ACC. This implied erosion in the value of Ambuja's investment in ACC, JPMorgan added.
J N Gupta, founder and managing director, Stakeholders Empowerment Services, said minority shareholders would be losing out in the deal while the parent company stood to benefit.
"Holcim has more control of the company and gets Rs 3,500 crore in cash as well. It is unfair on minority shareholders, as it's mostly the promoters of Ambuja who would cash out rather than the minority shareholders.
The deal (share purchase in Holcim India), being a related-party transaction, would have required approval of a majority of minority shareholders, if the Companies Bill had come into effect.
One has seen an increase in the number of such transactions in recent times.
However, a merger of Holcim India with Ambuja will require the approval of court and shareholders. Non-promoter shareholders would play an important role and could effectively block it," he said.
Other investor advisory firms agree. Amit Tandon of Institutional Investor Advisory Services India said he would strongly advise shareholders to oppose the deal.
"Since Holcim stepped in, the margins of ACC have come down from about 27 per cent to below 20 per cent, and Ambuja's margins are down more dramatically - from more than 50 per cent to the mid-twenties. Add to this the ever increasing royalty payments. The overarching intention appears to be to move the cash from Ambuja's balance sheet to Holcim," he said.
"This is a breach of corporate governance norms. Holcim is making Ambuja pay for the deal," said an equity fund manager of a domestic fund house.
This is the second time in the past few months that the investors of Ambuja and ACC are angry over Holcim's attempts to take out cash from Indian subsidiaries.
Earlier, Ambuja and ACC had to reduce royalty payments after independent directors on Ambuja and ACC boards objected to an increase in royalty rate - from 0.5 per cent to two per cent of net sales. It was later bought down to one per cent of net sales after angry protests by investors.
While some fund managers said they would look at reducing their exposure to the stock, others said they would exit the stock altogether.
"Incremental investor interest in the stock might go down. The stock has been down-rated and is not likely to go anywhere from these levels," said another equity fund manager.