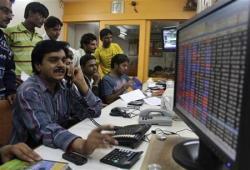 Reserve Bank of India on Friday unexpectedly raised the policy rate by 0.25 per cent as it kept its focus on controlling inflation, which it felt would be above the expected levels in the current fiscal.

RBI Governor Raghuram Rajan in his maiden policy review, however, eased liquidity though a reduction in the marginal standing facility rate, at which banks borrow from the central bank, by 0.75 per cent to 9.5 per cent.

We spoke to market expert A K Prabhakar on the RBI policy and here's what he had to say:

Market has rallied more than 1,000 points 5118-6142 in just four weeks with three gap-up in last 11 days.

A correction was needed to remove excess created by the rally.

Reserve Bank of India policy provided the necessary correction as the central bank surprised negatively by hiking repo rate by 25 basis points while 75 basis point cut in MSF went unnoticed.

We expect market to trade between 5800-6200 before any fresh move while the realty sector and high debt companies could face selling pressure.

At this juncture, cash rich fast moving consumer goods, information technology and pharma stocks will be in focus.
Prabhakar is the senior VP and Head -- Equity Research (Retail), Anand Rathi Financial Services Ltd