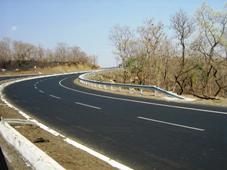 In a major step towards removing hurdles to implementing national highway projects, the Cabinet Committee on Investment on Thursday relaxed forest clearance norms for these projects. It decided to give "special exemptions" on forestry clearances.

For linear projects, it said it would de-link the grant of environment clearances from forest clearances.

CCI has also raised the ceiling of 4,000 km of four-laning under the National Highways Development Project phase-IV to 8,000 km -- on a build, operate and transfer (BOT-toll) mode.

It also allowed the upgrade of 4,000 km of roads on an engineering, procurement and construction basis.

For public-private partnership projects, the debts due to lenders would be considered "secured" loans.

To look into project roadblocks under NHDP, CCI had set up a committee under the chairmanship of Planning Commission member Kasturirangan, said a government press note.

CCI also directed various security agencies to adhere to the 12-week timeline approved by the Cabinet Committee on Security for granting security clearances for port infrastructure improvement projects.

In 2012-13, 32 projects were awarded, resulting in capacity addition of 136.75 million tonnes a year, involving an investment of Rs 6,765
crore.
The B K Chaturvedi committee had recommended it should be up to the ministry to decide the execution mode of road projects -- BOT (toll), BOT (annuity) and EPC -- in case the number of passenger car units was between 5,000 and 10,000.
CCI also decided to treat strengthening and widening existing national highway infrastructure projects differently from new projects and, in the case of 'widening' projects, allow the construction of national highways in non-forest areas.
Recently, Finance Minister P Chidambaram had said Rs 92,500-crore infrastructure investments were stuck and the government was taking steps to improve the situation.
In February, GMR and GVK had abandoned two mega road projects worth Rs 11,000 crore, owing to 'environmental issues'.
However, the National Highways Authority of India had later said the two entities had walked out of the projects, owing to decreasing viability and a fall in traffic.
CABINET'S INFRA PUSH
Raises the ceiling of 4,000 km of four-laning under NHDP phase-IV to 8,000 km
Directs various security agencies to adhere to the 12-week timeline approved by the CCS for granting security clearances for port infrastructure improvement projects
Decides to treat strengthening and widening of existing national highway infrastructure projects differently