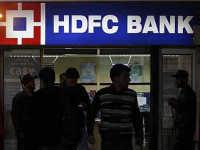 The second-largest private sector lender HDFC Bank said it will decide on a possible lending rate cut later this week.
"When costs go down, interest rates will go down. That (a rate cut) the Alco (asset liability committee) will decide now," said managing director and chief executive Aditya Puri, adding the Alco will meet "by the end of the month."
He said the bank is saving 0.06 per cent as a result of the recent cut in the cash reserve ratio, which is the amount of deposits banks have to pass with RBI, while there is also additional relief coming in from the 50 bps cut in deposit rates announced recently by the bank.
Signalling a lower interest rate regime, the largest lender State Bank of India last week announced a 0.25 per cent reduction in its base rate or on the minimum rate of lending on the back of cuts in the CRR and statutory liquidity ratio (SLR) or the amount of deposits to be held in G-secs, by the RBI early this month
and late July, respectively.
Unlike SBI, which is sitting on an excess SLR of Rs 50,000 crore, Puri said HDFC Bank does not have any additional SLR holding.
To a question on the margins, he said the bank continues to stick to its projection of 4 to 4.2 per cent. HDFC Bank's credit growth is on track, courtesy good demand from retail and working capital segments, Puri said, but added that there are difficulties in demand from the infrastructure and the capital goods sectors.
Asked about the progress on the negotiations between the bank and its parent HDFC over transferring of loans to the bank by the latter, which can be run into problems because of RBI's new securitisation guidelines, Puri said both the entities are "almost there" and an arrangement will be finalised by the end of the month.
On asked about the special dispensation for the ailing discoms announced by the government wherein nearly Rs 1.9 trillion is being restructured, Puri said it is a very positive step.