As government looks at ways to analyse huge amounts data available on corporate as well as individuals to increase tax collections by studying various parameters like spending patterns, IT companies expect strong growth in Big Data and Analytics business in the coming years.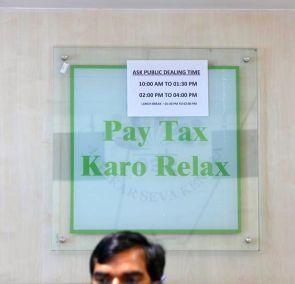 "Government is planning to use Analytics to increase its revenue base," Infosys Vice President and India Business Head Raghu Cavale told PTI.

He said the country's tax-payer base is just about three crore and the number has been inching its way slowly for the last 5-10 years, which the government would like to see growing at a faster pace.

"The economy has been expanding, which essentially means that the number of people coming in the tax rate should be more. But it is not so," Cavale added.

Big Data and Analytics businesses of IT firms aim at storing, sorting and analysing vast amounts of data across various fields - finance, marketing, healthcare, utilities, climate and transaction records.

According to government data, the total tax payers in the country stood at about 3.24 crore during the 2011-12 fiscal.

"As a nation, we can put together all the data. If you travel abroad, buy expensive jewellery, we can check your digital footprints on online shopping and piece together a person's lifestyle and through that create a taxable database," Cavale said.

Citing an example, he said the government in Italy follows people's lifestyle, travel and spending pattern so as to track those who could be evading taxes.

"So can we use this data analytics to expand out taxable database. Our total direct taxes are only 9 per cent of our GDP, whereas it should be about 18 per cent, and you cannot raise it by taxing people who you have already taxed. You are going to use analytics," he added.

On government's use of IT for collecting and utilising income tax information, Cavale said: "We are discussing with the government many projects. Some have already been tendered,
which we have won. Some other people are doing it. Government is very well aware of data warehousing and analytics. It is talking to us as well as other firms."
The Finance Ministry had collected Rs 4.73 lakh crore (Rs 4.73 trillion) in indirect taxes during 2012-13. For the current fiscal, it has fixed the target of collecting Rs 5.65 lakh (Rs 5.65 trillion) crore in indirect taxes, comprising customs, excise and service tax.
The total collection of indirect taxes stood at about Rs 228,550 crore (Rs 2.28 trillion) during the first six months of 2013-14.
The Direct Tax collection from corporate and income tax payers, which was at Rs 14,530 crore (Rs 145.30 billion) till August, surged to Rs 18,077 crore (Rs 18,0.77 billion) till September 15, 2013.
Cavale said Infosys is competing seriously for government deals in this area and has won some like the income tax department's online filing of returns as well as managing banking and insurance operations for India Post.
"The challenge right now is to scale this and create more efficiency, both in terms of the solutions we bring to the market, our own efficiency and, of course, how all this finally boils down to revenue stream," he added.
Information Technology can be harnessed to clearly see the position at any given point of time and help make sound financial decisions, he said, adding that it can help computerise of all government records at the central as well as state levels.
"Ideally at the end of the day our Finance Minister, like a good businessman, should be able to say what is my Current Account Deficit (CAD) for the day," Cavale added.
He said the basic aim on which Infosys has been speaking to various wings of the government is to create a medium at state government's level, so that the state treasury is computerised, state taxes are computerised and these are linked with the centre.
For the quarter ended September 30, 2013, India's second largest software services exporter Infosys clocked revenues of Rs 317 crore (Rs 3.17 billion) from India and a segment profit of Rs 121 crore (Rs 1.21billion).