A senior advocate appearing for many telecom companies in the 2G spectrum matter on Friday suggested that government should think of moving the Supreme Court for a re-look at its judgement cancelling the 122 licenses in the wake of the results of the recent auction of radio waves.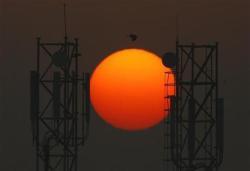 He said the result showed that the CAG assessment of presumptive loss of Rs 1.76 lakh crore (Rs 1.76 trillion) was "entirely baseless".

"In my view the government should ask the Supreme Court to have a re-look at the judgement and may restore the 122 licenses," senior advocate Mukul Rohatgi said.

He said the February 2 judgement of the apex court, holding that auction was the only way forward and resultant cancellation of 122 licenses, was flawed.

He said the end result of the verdict was to refund Rs 1,650 crore (Rs 16.50 billion) to each of those whose licenses was cancelled which will amount to about Rs 20,000 crore (Rs 200 billion)
but the auction has only fetched a fraction of it and that has to be paid in a staggered manner.
"So the end result is government has suffered, licensees have suffered, the foreign joint ventures have suffered, the FDI climate has suffered, the consumer has not been benefited, and finally the telecom sector has not progressed at all," Rohatgi, who is appearing for various telecom companies in courts, said.
He said the alienation of natural resources like spectrum was a policy matter and is best left to the government, especially if the object is for every citizen to have a phone at nominal cost.
Rohatgi said obviously auction cannot be the way forward as stated by the five-judge bench of the apex court.