The government is expected to set up the National Green Tribunal, the first judicial body to deal exclusively with environmental laws, over the next two months or so. The Chief Justice of India will help select its chairman. Lok Sabha passed the National Green Tribunal Bill on Friday. It is expected to be approved by Rajya Sabha on Monday.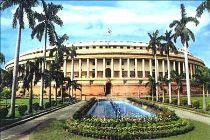 The main bench of the Tribunal will be in Bhopal. Environment Minister Jairam Ramesh said: "This way the government and Parliament could show some sensitivity to the people of Bhopal, the site of the worst industrial disaster." He was referring to the gas leak from the Union Carbide plant in 1984, which killed hundreds of people. 
The tribunal is the first serious attempt in the country towards environmental rights. It will be the first time an individual will have the right to claim civil damages for an environment-related accident, including any adverse health impact. 
A retired or current judge of the Supreme Court or the chief justice of a high court will be appointed as the chairman of the tribunal. The tribunal will have four circuit benches which will travel from place to place to deal with cases.  
It will deal with all environmental laws on air and water pollution, the Environment Protection Act, the Forest Conservation Act and the Biodiversity Act. With this effort, India will join Australia and New Zealand which have such specialised environment tribunals.  
The Green
Tribunal Bill was amended to make sure that individuals and not just institutions or non government organisations could appeal before the green tribunal. With some 5,000 environment-related cases pending across courts in the country, it is possible that the tribunal too may soon have an overload of cases.  
"The government would be open to the idea of creating more benches," said Ramesh. 
One of the reasons for setting up the Tribunal is to fast-track these cases. The Tribunal is required to dispose of  cases within six months. Its decisions can be challenged only in the Supreme Court. 
"The National Green Tribunal is one dimension to a restructured approach to environment," Ramesh told Business Standard. 
The tribunal cannot impose prison sentences other than for failure to pay a fine or failure to comply with an award. This imprisonment can extend to three years. A fine for non-compliance to the tune of Rs 100 million (Rs 10 crore) can also be levied. In the case of companies, the maximum limit is Rs 250 million (Rs 25 crore). The National Environment Tribunal was first established in 1995 with a limited jurisdiction over cases involving 'absolute liability for hazardous substances'. The Act establishing the tribunal was never brought into force and the tribunal was never set up.  
Thereafter the National Environment Appellate Authority was set up in 1997. Unfortunately, while prescribing qualifications for the chairperson, the Act did not provide emoluments commensurate with the office. Hence the post remained vacant and the body, defunct.