The government is likely to give legal right to food to both priority and general categories of the population under the proposed National Food Security Act, as suggested by the Sonia Gandhi-led National Advisory Council (NAC).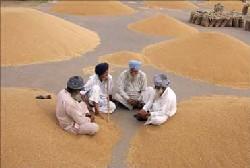 There were differences between the NAC and the Rangarajan Committee on giving a legal right to food to general category, or above poverty line (APL) families.

While the NAC had suggested giving a legal cover to both the priority (below poverty line, or BPL) and general categories, the Rangarajan Committee was not in favour of giving such a right to the 'general' population due to supply constraints.

"There is no difference of opinion for priority category. The differences are on general category. NAC is saying give legal entitlement, while the Rangarajan committee is saying no legal entitlement for the general category," Food and Consumer Affairs Minister K V Thomas said.

Thomas noted that the draft bill of the proposed Food Security Act is ready and is likely to be placed this week before the Empowered Group of Ministers (EGoM) for approval.

"The draft Bill is ready now. I don't say it is in line with NAC or not. But it is in line with what is in the mind of Madam Sonia Gandhi," he said.

"The principle of Sonia Gandhi is that every citizen of the country should get legal cover toward a certain quantity of nutritious food, not simply foodgrains," he shared.

Thomas said the additional foodgrains requirement for broad coverage of the priority and general category could be met by enhancing procurement from the current level.

"Government is currently procuring about 30 per cent of the total wheat and rice production. We can increase it to 35 per cent to meet the demand under the proposed law," he said.

The country is estimated to have harvested nearly 180 million tonnes of wheat and rice in 2010-11.

Asked if the ministry has decided on the quantity and price of foodgrains under the proposed law, Thomas said, "The draft bill has a general framework. The nitty-gritty would come under rules."

In 2009, the government had announced that it will come up with Food Security legislation. Recently, Prime Minister Manhoman Singh had stated that the government intends to bring the proposed Bill in the coming session of Parliament.

Presently, the government provides 35 kg of fodgrains per month to 6.52 crore BPL families and at least 15 kg of foodgrains to 11.5 crore APL families.