Pune Warriors batsman Robin Uthappa said the penultimate over of the Mumbai Indians innings in which paceman Alfonso Thomas leaked 27 runs played a huge role in their defeat.
Pune are facing exit from the fourth edition of the Indian Premier League after crashing to seventh defeat in a row, as they lost by 21 runs to Mumbai.
"When you get nine balls (including wides) in one over, you can surely make it a big over. (Kieron) Pollard made full use of that," said Uthappa referring to the Caribbean batsmen smashing Alfonso for a couple of sixes and as many fours to help MI finish at 160 for seven.
Mumbai were 124 for 6 after 17.5 overs but Pollard made 28 in 21 balls after coming up late in the order lifted the side past 150-run mark.
Alfonso, whose first spell was an impressive 2-0-10-1, finally had unflattering figures of 4-0-53-1 in the end.
However, Uthappa said one individual was not responsible for the defeat and that team performs as a unit.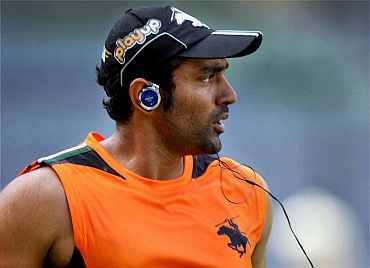 "When you win, you win as a team, and lose as a team. We are not pointing fingers at anyone. As a unit we are trying hard. It's difficult when you lose 6-7 games in a row to pick yourself up. I have been in similar situation with other teams. All you need is a win a couple of games and the confidence will be up," he said.
Uthappa praised their leg-spinner Rahul Sharma, who returned an amazing anaylsis of two for seven in four overs and said it was very inspiring stuff.
"Even today in our loss, man-of-the-match was from our side. He bowled brilliantly. Rahul's bowling inspired us. He's been bowling very well," he said.
Uthappa, who made 34 not out in his side's final tally of 139 for 7, was still hopeful that the Warriors can advance to the play-off stage despite having lost seven straight games out of nine.
"Cricket is a funny game. Anything can happen. We have still got five games. We need to win all of them. It takes one game to pick yourself up and get momentum," he said.
The Karnatka batsman, who has taken up to keeping wickets in the tournament, said he would enjoy opening the innings whenever he's given a chance by his team.
"I have been keen to open, have spoken to the team management. I am hoping that at some time I will get the opportunity to open. I am hitting the ball pretty well. First 6 overs is Power Play. Hopefully next few games I will get a hit-in," Uthappa said.
He was confident that Sourav Ganguly, drafted into the team in place of the injured Ashish Nehra, would get into the groove quickly despite not having played cricket for a long time.
"He's got 11,000 runs in ODI cricket. He's got a couple of days before the next game," he pointed out.
Winning team member T Suman, who struck a belligerent 36 in only 16 balls with three fours and as many sixes, said that he could not play earlier in the tournament because of an injury.
"I injured my thumb during a practice game. That's the reason I could not play earlier in the tournament," he said.
Suman said Mumbai skipper Sachin Tendulkar told him to play in a positive manner.
"I played as a floater and Sachin told me to be positive as there were Pollard and (Andrew) Symonds to come after me," he said.
The Hyderabad player said he was happy to play in whatever position the team wanted him to go in.
"I can also open the innings. I have opened. But I am happy to do whatever role the team gives me to play," he said.