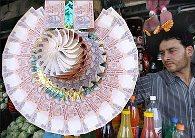 The government has set a revenue target of Rs 9 lakh crore during the current financial year, a top official said.
"We have set a target to collect Rs 9 lakh crore through direct and indirect taxes during 2011-12", Revenue Secretary Sunil Mitra said.


He said the revenue department had done a good job in collection of high revenues during the last fiscal.


During 2010-11, the government had already collected a revenue of Rs 7.85 lakh crore. "We expect to finish the fiscal with a revenue collection of Rs 7.92 lakh crore", Mitra said at an interactive session.


Referring to the treatment of personal savings in Direct Tax Code, he said so far the EEE (exempt, exempt, exempt) model was followed.


EEE allows tax exemptions during entry, tenure and maturity of any investment. But in the DTC, there would some bit of EET (exempt, exempt, tax), Mitra said.


On the issue of slapping MAT on SEZs, he said that the government has done it keeping in view the incidents of several software companies shifting their bases from STPI's to SEZs.


With STPI (Software Technology Parks of India) tax exemptions being withdrawn fom March 2010, a number of software firms had relocated to the SEZs.


"We need to maintain the tax base", he felt. Mitra said under DTC, all profit-linked exemptions would go and be replaced by investment-linked incentives.