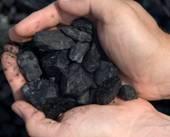 The coal shortage in India is likely to touch 15 per cent to 81 million tonnes (mt) by the end of the current Plan period ending March 2012, according to the government's latest estimate.
This comes at a time when the country's total commercial energy requirement is expected to grow at 5-6 per cent to a massive 1,667 million tonne oil equivalent required to achieve and sustain a 9 per cent gross domestic product growth rate in the next two decades, as per planning commission's projection.
India currently faces a 10 per cent gap in the demand and supply of the dry fuel which alone accounts for over a half of the country's overall demand for commercial energy at 329 Mtoe annually.
"Next financial year we expect a coal shortage of around 13 per cent and in the terminal year of the current Plan, the shortage in supply is going to be 15 per cent," said a senior official from the power ministry.
While India's coal reserves of 267 billion tonnes are the fourth-largest in the world after the US, Russia and China, its production at around 400 mt falls short of the demand by 10 per cent annually.  
"The production of Coal India Ltd (CIL) and its subsidiaries is not able to keep pace with the demand. While power sector is growing at the rate of 10 per cent, coal production is growing at the rate of 5-6 per cent. And the more capacity we add, this mismatch is going to grow," said a power ministry official.
The state-owned CIL along with its seven subsidiaries alone accounts for over 80 per cent of the domestic coal production. The company has, however, already lowered its production target for the current Plan period by 34 mt to 486 mt, citing delays in obtaining environmental clearances for mines.
While the company is currently facing an overall production gap of 54 mt, it hopes to arrange 20 mt from its operating mines, leaving a shortfall of 34 mt. Around 17 projects of CIL had been stalled which were slated to produce 101 mt at the terminal year of the 11th Plan period, CIL chairman Partha S Bhattacharya had said earlier this week.
CIL also blames inadequate railway unloading infrastructure for the difficulty in meeting production targets.
The company has indicated that around 16 mt of the stock has been piled up in three of its subsidiaries -- Bharat Coking Coal Ltd, Mahanadi Coalfields and Central Coalfields Ltd -- owing to limited availability of railway rakes.
Meanwhile, the gap in the supply of coal for energy generation is set to go up further in coming years.
"The overall gap between demand and supply at the end of 2016-17 as projected by the Working Group on Coal and Lignite may be revised upward to 86.50 mt," coal minister Sri Prakash Jaiswal had informed last November.
Total coal availability in the country by end 2017 would be close to 647 mt with a projected import requirement of over 86 mt.
This is despite the government's attempts to offset the lag in coal supply through imports. The power ministry had set a target of importing 20 mt of coal last financial year.
Target of 29 mt has been set for the current financial year, 39 mt for the next financial year and around 46 mt of coal imports in the terminal year of 11th Plan period.
A major constraint in ramping up production is the failure of companies to develop captive coal blocks allotted to them by the coal ministry.
"Power sector has so far been allotted over 100 captive coal mines. Except 5-6 of them, none has come up so far. Unless we have almost all the coal blocks in production mode, we will continue to have shortages," said the power ministry official.