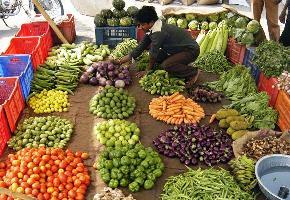 Kerala government on Friday decided to earmark Rs 160 crore (Rs 1.6 billion) for open market intervention to check price rise of essential commodities, especially in view of the coming Onam festival season.

Speaking to reporters after a Cabinet meeting, Chief Minister Oommen Chandy said the Civil Supplies Corporation and Horticulture Corporation would get Rs 65 crore (Rs 650 million) and Rs 15 crore (Rs 150 million) respectively, while the balance amount
would go to the Consumer Federation and other state agencies.
The Cabinet also decided to take steps to get maximum financial aid from the Centre to take up flood relief work in the state, he said, adding a meeting to assess flood damage in the worst hit Idukki district would be held in Thiruvananthapuram on Saturday.
Kerala has already submitted a memorandum to the Centre, seeking Rs 5,660 crore (Rs 56.6 billion) for flood relief work.
Chandy said the cabinet also decided to sanction Rs 431 crore (Rs 4.31 billion) for repair and maintenance work of roads damaged in heavy rains.