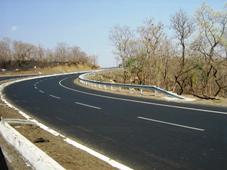 Chief Minister Omar Abdullah said on Wednesday a good road network, especially through a difficult geographical terrain like that in Jammu and Kashmir, is crucial for holistic development of the state.

Inaugurating five bridges on the Animating-Simthen-Kishtwar road, Omar underscored the need for a better road infrastructure, terming it necessary for the socio-economic well being of the people by connecting the far-flung areas.

"Inter-district road connectivity and alternate routes to supplement transportation, especially in winter months and rainy seasons, are all the more imperative to reach out to the people in the process of development," he said.

The chief Minister said various central agencies like
National High Authority of India and Border Roads Organisation have been persuaded to fast track their mega projects in the state and the state government is committed to give a fillip to the roads and bridges sector.
"While scores of bridges have been constructed under various schemes during the last three years, the vital road links have also been constructed, upgraded and metalled to open up rural and far-flung areas for economic prosperity and employment generation," he said.
Terming the Anantnag-Simthan-Kishtwar road yet another highway with significant importance like the Mughal Road, Omar said it will provide alternate route to the hilly district of Kishtwar and open up the cut-off areas.
With these bridges, the distance between the valley and Doda region will get significantly reduced.