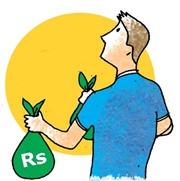 Investors got the upper hand in 2009, while fund houses struggled to cope with regulatory changes and upheavals in the economy, even as the industry shrugged off recession blues with its assets hitting an all time high of Rs 8 lakh crore (Rs 8 trillion).
The year was particularly significant as the market regulator Sebi acted in favour of the investors and eased norms making it easier for them to invest in mutual funds. The key changes include abolishment of entry load on purchase of schemes and allowing MFs to be traded on the stock exchanges.
"Even though these are early days, both (regulatory changes) have deep potential for a positive impact. The abolition of entry load is a significant game-changer as it completely transforms the business model of the fund distribution industry. For fund companies as well as distributors, it throws up a challenge of managing a big change if they have to flourish," mutual fund tracking firm Value Research CEO Dhirendra Kumar said.
According to marketmen, the move for introduction of MFs on exchanges as well as an improvement in the state of the economy would increase the reach of MFs across the country.
With high volatility in the stock market during the year, investors looked for avenues of mutual gains and lesser risk to reap returns on their investments. This was evident with the average AUM of the industry hitting an all time high of Rs 8,07,546 crore (Rs 8,075 billion), an increase of Rs 3.86 lakh crore (Rs 3.86 trillion) at the end of November, according to latest figures available on the Association of Mutual Funds in India (AMFI) website.
Analysts believe that the improving economic conditions and relatively good performance of the Indian stock markets show the promise that lies ahead for the mutual funds and 2010 should be a better year.
"The total AUMs should definitely climb in 2010 and I believe an increase of 20-25 per cent in industry AUMs is possible by end-2010," global financial research firm Celent analyst Anshuman Jaswal said.
During 2008, the industry had incurred heavy losses when the fund houses became poorer by about Rs 1,50,000 crore (Rs 1,500 billion) and leaving the industry shattered with a huge liquidity crunch.
At present, the industry, considered a safe haven for investors, consists of 37 fund houses.
Despite a rebound in the performance of the fund houses, equity schemes continued to lag compared to debt and other liquid schemes as investors preferred to park money with funds promising assured returns, although analysts are upbeat that equity MFs would perform better going forward in 2010.
Equity schemes have recorded inflows to the tune of Rs 2,104 crore (Rs 21.04 billion) so far this year, while income funds have witnessed investments of Rs 2,87,500 crore (Rs 2,875 billion).
However, Kumar cautioned that flush with excess funds investors are only parking money for the short term with the mutual funds.
"The bloated AUM should not be paid too much attention too as most of it is in short-term debt funds which have become attractive simply because the system has a lot of loose cash floating.... As far as long-term equity money goes, the situation is not that great. Almost all the AUM increase has come from market appreciation rather than fresh inflows," he noted.
Moreover, Kumar said that more regulatory changes may be in the offing from the market regulator in the New Year.
"The regulator's current mood is of actively chasing and fixing issues in the industry so I guess one could see more changes during 2010 as well," Kumar said.
Another, regulatory change which was mooted this year in favour of the investors was doing away with the practice of obtaining a no objection certificate (NOC) from existing distributors, if a customer wants to switch the distributors.
The market regulator said it has come to notice that unwarranted hardships were being caused to investors in mutual fund schemes.
Kumar said, "The decision is pro-consumer in spirit and will drive distributors to provide satisfactory after-sales services to investors as investors would have the choice to switch their existing distributor if they are unsatisfied with their performance."